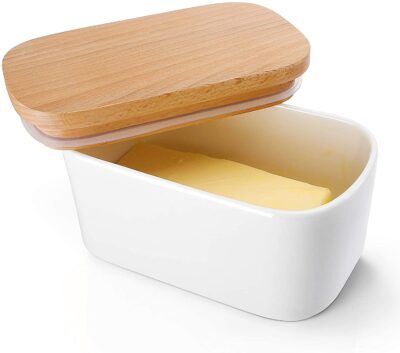 Today only, save 30% off Sweese Porcelain Dishes and Cups. Choose from dishes of all kinds, espresso sets, ramekins, and much more! The Sweese butter dish is large enough to fit a wide range of shaped sticks of butter. What's more, it holds 2 sticks of butter so one can be softening while you're using the other; get the Sweese 303.101 Large Butter Dish – Airtight Butter Keeper Holds Up to 2 Sticks of Butter – Porcelain Container with Beech Wooden Lid, White for only $13.25 today!
UPDATED VERSION: BEECH WOODEN LID – Beech is a very hard and tough material. It is also strong, with a close straight grain. Unlike synthetic materials, beech wood will often age gracefully. And with the right maintenance, beech wood can look lovely for many years. It also provides a natural style for your kitchen. Very elegant!

TIGHT BEECH LID WITH SILICONE RING SEAL – The top lid helps keep your butter sticks or margarine FRESH in the refrigerator WITHOUT mixing other food taste and will snap closed for odors. You can easily take off the ring seal freely if you prefer to.

GENEROUS SIZE: A PERFECT MATCH FOR MOST BUTTER BRANDS – The container measures 6 x 3.5 x 2.7 inches, which is wide and deep enough to hold STANDARD sticks of butter, even 4 sticks if you really wanted to. Works perfectly for both WEST and EAST/EUROPEAN coast butter. A great fit for fans of Kerrygold, Land O'Lakes, Plugra Butter and more.

NO MORE MESS THANKS TO THE DEEP DESIGN – The tall and deep design helps stop the butter sticking to the top of the lid and staying there when you pick up the lid. Without mess, this Sweese modern butter dish adds a touch of elegance to your kitchen.

ALWAYS LOOKS GREAT – Plain white makes it go with a lot of dish patterns. Easily keeps it clean, dust-free, light out. And it keeps the pet out of the butter, let your kitchen looking tidy and organized.
This post contains affiliate links.