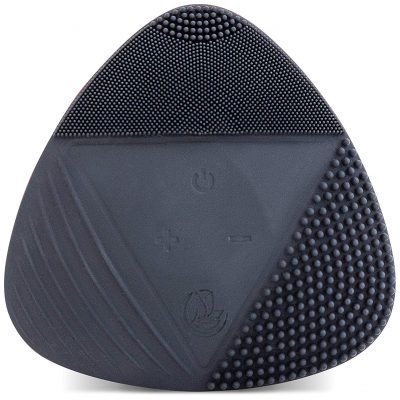 Your skin deserves some extra attention after this stressful season! Today only, score 30% off Microderm GLO Skincare Products. Choose from Microderm tools, Facial Steamer, Peptide Complex Serums and more! This Silicone Sonic Facial Cleansing Brush – Best Beauty Massager for Normal, Sensitive, Combination Skin – Deep Cleaning Exfoliating Face Scrubber, Waterproof & Rechargeable Cleanser Tool is only $19.99 and comes in several color options!
? #1 SECRET TO BRIGHT CLEAN SKIN! Did you know that deep-cleaning your skin daily with your Ultrasonic Skin Scrubber Facial Cleansing Brush will effectively penetrate your skin to remove dirt, oil, dead skin cells, and makeup that clog pores? Say hello to the clearest brighest skin ever! ? DERMATOLOGIST RECOMMENDED – LIFETIME WARRANTY

❤️CLINICALLY-PROVEN TO GIVE YOU TOP SPA RESULTS— Are you looking for proven facial results in the comfort of your home? Get ready to fall in love with the #1 Dermatologist Recommended Microderm Glo Ultrasonic Facial Brush M4! It uses patented Ultra Sonic Technology that produces over 8,000 ppm and is clinically-proven to remove 99.8% of dirt and oil to give you younger, clearer, and more beautiful looking skin!

? REVEAL YOUR CLEANEST, GLOWY SKIN… Do you want beautiful, summer glowy skin every time you wash your face? Your high-end Silicone Vibrating Brush increases your blood circulation to give you that radiant and rosy glow! Plus, it gently exfoliates your skin to remove dull, dry, and tired skin cells! Enjoy having sexy, confident, healthy skin!

❤️SAFE & EFFECTIVE FACIAL CLEANSING BRUSH FOR ALL SKIN TYPES— Did you know that our M4 Facial Brush uses deep sonic pulsations that improve your blood circulation and maximizes the absorption and effectiveness of your beauty creams and serums. It is safe and gentle enough for all skin types- normal, dry, sensitive, combination and oily skin. Experience having a naturally-radiant and refreshed complexion after your first use!

✨ GET GORGEOUS SKIN IN 4 MINUTES— GUARANTEED! You will see a noticeable difference in the radiance and vibrance of your skin even after just 1 cleansing treatment— or your money back! Enjoy having softer, clearer, and more vibrant skin in just 4 minutes a day! Your purchase includes 4 Brush Types, and 15 Intensity Levels to personalize your experience. Click the yellow "Add to Cart" button today with total confidence in your future skin!
This post contains affiliate links.