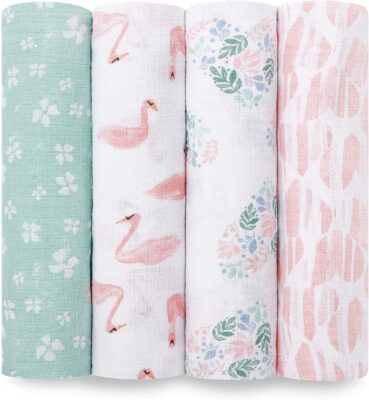 Baby Necessities on sale today; save 30% off HALO and aden + anais Baby Products. You'll find the softest blankets ever, burp cloths, sleep sacks and, like this Aden by aden + anais Swaddle Blanket, Muslin Blankets , 4 Pk, Briar Rose for $24.47, the prints are completely giftable!
SATISFACTION GUARANTEE – If at any point in time – for whatever reason – you should be dissatisfied with our baby blanket – don't hesitate to contact us!

SUPER DURABLE & AFFORDABLE – Let our high quality muslin assure you that you're doing the best thing for your baby's comfort. Superior breathability, natural give, softness and durability. Baby essentials which last a lifetime and provide happiness throughout generations!

LARGE, VERSATILE & STYLISH – Includes four 44" x 44" (111cm x 111cm) swaddle blankets. Our Blankets provide you and your little bundle of joy with enough space for wrapping & swaddling without having to fear that she / he will outgrow the blanket too soon! You can also perfectly use our baby blankets as a receiving blanket, swaddle sack and stroller cover.

THIN, BREATHABLE & SAFE – Each individual 1-layer swaddle blanket is thin enough to provide ample breathability. aden by aden +anais keeps your little one comfortable and safe!

NO MORE SLEEPLESS NIGHTS – Keep your little one from overheating while at the same time providing her / him with a nice comfy blanket. Swaddling recreates the snugness of the womb so your baby is provided with a well-deserved good night's sleep and enjoys the benefits of the most natural and soothing ways of resting. Our muslin blankets are specifically designed to match your little ones needs!
This post contains affiliate links.