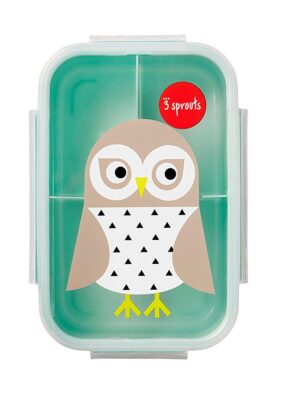 Pack easy, healthy meals on the go with the 3 Sprouts Lunch Bento Box!  The leak proof design even allows you to pack wet foods like yogurt and dips. Its three compartments are perfectly portioned for a child's appetite and the kid friendly latches open and close easily. The 3 Sprouts Lunch Bento Box eliminates the need for plastic bags and keeps your child's lunch litterless. Click here for the 3 Sprouts Lunch Bento Box – Leakproof 3 Compartment Lunchbox Container for Kids, only $9.70 for a limited time!
3 SPROUTS: As an adult with toddlers, you want to keep them fed and ready for school. The bento lunchbox makes this easier for you! These microwavable boxes come in plenty of cute designs and would make for a perfect addition to your Tupperware set.

SEPARATE FOOD: The 3 Sprouts lunch bento box is designed to separate food for your child for easy packing and eating. There is no mess involved with this 3 compartment container. The lunchbox keeps food divided, pleasing even the pickiest of eaters.

REUSABLE LUNCH BOX: This container is non-disposable and easy to clean. Either hand-wash it or put it in your dishwasher for a good rinse. Your kid will make this their favorite lunchbox. Perfect for easy meal-prep; no need for anymore brown bags!

EASY STORAGE: The bento lunchbox is perfect for both boys and girls to take to school with them. The container is leak-proof, easy to open and has a snap-on lid. No need to worry about accidental spills or your kid making a mess in their backpack.

SAFE TO USE: No need to be concerned about the 3 Sprouts bento box. It is lead-free, phthalate-free, PV-free and BPA-free. The container is able to be cleaned on the top rack of your dishwasher and microwave safe, just make sure to take the lid off.
Remember, Amazon prices can change at any time.
This post contains affiliate links.