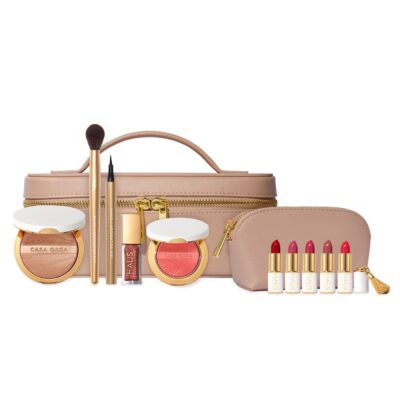 Discover the new luxurious formulas of CASA GAGA; click here to save 25% off the Italian Glam Collection by Lady Gaga. This limited edition cheek, eye & lip collection is decadent, chic & dripping in gold—the essence of Italian glamour. Take it all on the go with a vegan leather train case ($62 value) our gift to you. This HAUS LABORATORIES by LADY GAGA: Limited Edition CASA GAGA LA COLLEZIONE | Gel Powder Highlighter & Brush, Blush, Mini Lipsticks, Liquid Eyeliner, Lip Glaze | Vegan & Cruelty Free | $260.00 Value is only $148.50 today!
6 luxurious eye, lip & cheek products designed to elevate your glam with luminosity & high end color.
Add a universally flattering flush to cheeks and lips with ROUGE, then sweep on HIGHLIGHTER to add radiance. Create the Italian cat eye with LIQUID EYE-LIE-NER. Play up your pout with creamy MINI LIPSTICKS, and top it off with LA LUCE LIP GLAZE.
This post contains affiliate links.