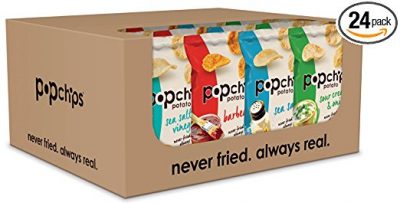 Lowest price ever on this 24 pack of Popchips Potato Chips, Variety Pack. Get it right now for only $11.47 when you add it to your Subscribe & Save (which you can cancel at any time). Or buy it as a one-time purchase for only $12.07.
All the popchips flavors are puttin' on the ritz for your taste buds so wise up with our 4 flavor variety pack. This isn't a regular garden-variety flavor pack. This is popchips flavor! Pack of 24, 0.8oz. bags: Salt, BBQ, Sour Cream & Onion, Salt & Vinegar

Popped potato chips, popped sweet potato chips, popped corn chips – you crave, it we pop it! Never fried, not baked & always real our popped potato chips have all the flavor & only half the fat of leading fried potato chip brands. Popchips are gluten free!

Keeping life flavorful one chip at a time! We take potatoes, add heat & pressure then pop! You get chips that are deeply satisfying not deep fried. Crunchy and flavorful, popchips are simply potatoes, popped. Zero trans or saturated fats non-GMO certified.
Remember, Amazon prices can change at any time.
This post contains affiliate links