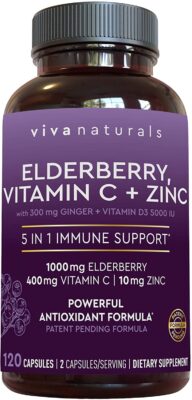 Today only, save 20% off Viva Naturals Vitamins and Supplements. Choose from helpful options like D3, Turmeric, and even probiotics for gut health! If you're looking for a super supplement that provides healthy immune system support and the added benefits of nutritious essential vitamins, give Viva Naturals Elderberry, Vitamin C + Zinc immunity supplements a try today! Unlike other elderberry supplements, gummies or even syrups, Viva Naturals' powerful patent pending antioxidant formula combines the immune supporting benefits of not one, but five high-quality ingredients.* Click here for the Viva Naturals Elderberry, Vitamin C, Zinc, Vitamin D 5000 IU & Ginger – Antioxidant & Immune Support Supplement, 2 Month Supply (120 Capsules) – 5 in 1 Daily Immune Support for Adults for only $19.99. 
5 Powerhouse Immune Supporting Ingredients* – Viva Naturals elderberry capsules for adults combines the strength of not one–but five high-quality, immune-supporting ingredients.* Our patent pending formula includes sambucus elderberry and ginger help provide antioxidant support, zinc oxide (an essential nutrient) helps to promote immune function, and for an extra immune boost, we've added vitamin D3 5000 IU and vitamin C to bring you a powerful elderberry supplement great for any season.*

More Elderberry Per Serving (1000 Mg) – Elderberries (Sambucus nigra) are known to be high in antioxidant support.* Our 5-in-1 elderberry supplement is packed with 1000 mg of super-concentrated elderberry extract per serving. That's more than the average elderberry supplement and it's equivalent to 4000 mg of dried fruit! Unlike messy syrups or chalky pills, our patent pending formula for elderberry capsules makes getting the immune supporting benefits you need effortless.*

Get Your Daily Intake Of Vitamin C – Your new go-to elderberry supplement is also packed with an essential daily immune booster—vitamin C.* With 400 mg of vitamin C in every serving, our patent pending formula of elderberry capsules for adults provide daily antioxidant support and immune function support you can take before heading into a busy office, or even while travelling.*

Ginger & Zinc + More Than 100% Dv Of Vitamin D3 – To help keep your healthy immune system in top shape, our elderberry capsules are each packed with more than a full serving of vitamin D3 5000 IU and 10 mg of zinc oxide and 300 mg of ginger for added benefits.*

2 Month Supply Of Powerful Immune Support* – While other brand's supplements will only last you 30 days, Viva Naturals brings you exceptional value with a two-month supply of our powerful patent pending immunity formula* at a great price. Every bottle is packed with 120 easy-to-swallow black elderberry capsules, and each capsule contains our highly concentrated powerhouse blend of immune supporting ingredients.*
This post contains affiliate links.