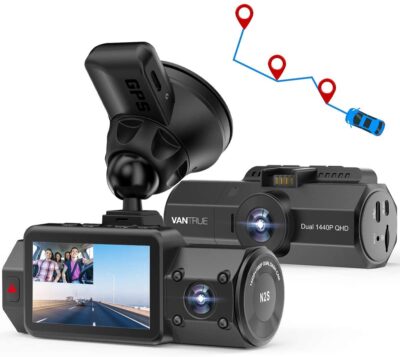 Today only, save 20% off VANTRUE Vehicle Dash Video. The N2S dashboard camera comes with an external GPS mount, which helps precisely records your vehicle's location, speed, direction, date, and time to show exactly where and when events occurred, and playback on maps via Vantrue GPS Player. No need to purchase GPS mount separately. Get the Vantrue N2S 4K Dash Cam for Uber, Dual 1440P Front and Inside Dash Camera with GPS, Car Dashboard Camera with Infrared Night Vision, Parking Mode, Motion Sensor, Capacitor, Support 256GB MAX for $175.99 today. 
【Single Front 4K and 1440P Dual Dash Cam with Audio for Uber/Rideshare Drivers】The N2S Front and Inside Dash Camera could record a super QHD videos & images front and inside at 2560x1440P with 30fps simultaneously as evidence in case of any accidents. Besides that, single front camera provides you with a crystal video at 3840×2160@25fps to capture license plates as well as more wide and clear street details. It's your superior choice for Uber, Lyft, Taxi, Cab as well as drivers.

【Infrared Night Vision with Sony STARVIS】The inside car camera adopts a brilliant Sony Starvis sensor, F1.8 big aperture and 4 Infrared LEDs to guarantee excellent low light performance. The interior facing lens with excellent night vision which could support capture 1920x1080P@30fps video to demonstrate a more clear view inside of the vehicle even in the dark. Equipped with HDR technology, the front and rear dash cam provides great exposure and dynamic range in low light conditions.

【24*7 Hours Parking Mode】Parking Mode triggered by the motion detection or collision detection. Motion detection enables the dual car camera to start record instantly when it detects movement in front or cabin of the vehicle; Collision detection enables the front and rear dash cam to auto power on and starts record if any crash is detected. Monitor your car 24 hours a day for peace of mind.

【Supercapacitor & G-Sensor】The dashcam uses a supercapacitor which can withstand extreme temperatures range from 14 to 158°F. It could prevent the risk of overheating and ensure the life duration as well as the reliability of the cam. While the built-in G-sensor detects a crash, the video of the current accident will be locked automatically as well as be saved as an "event" video to ensure important files are well protected.

【Come with External GPS Mount & Reliable After-Sale Service】This dual car camera comes with an external suction cup mount, allowing you to record the route, speed, and location coordinate. Supports class 10 or higher micro SD cards up 256GB(not included, need to buy separately). Recommend Vantrue 256GB Micro SD card. Vantrue offers a 30-Day money back and 18-month product warranty. Please contact us immediately if you have any problems or doubts, we will get back to you within 24 hours.
This post contains affiliate links.