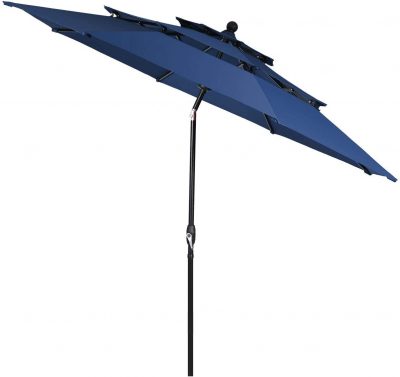 Create the backyard you have always wanted today: click here to save 20% off Tangkula Patio Umbrellas. This high-quality outdoor umbrella is an ideal option for shade the sunlight. With our durable and sturdy umbrella, it will serve to protect your form sunlight. And, on the rainy day, this outdoor umbrella make it a shelter. Our outdoor umbrellas are styled with the elegant look that accents any outdoor setting. Comes with double vents, the patio umbrella is good for air circulation . The solid aluminum structure of 8 ribs, the patio umbrella is durable and sturdy for outdoor use. Additionally, the patio umbrella is super easy to open and close by crank. You can easily use the crank to adjust the tilt of the patio umbrella for maximum shade. Assembly is easy and can be done without tools. Get the Tangkula 10 Ft 3 Tier Auto-tilt Patio Umbrella for only $95.99 today. 
⛱️ Three Tiers & Dual Vented ⛱️ Unlike other patio umbrella, the 3 tier patio umbrella with dual wind vents which not only adds fashion and elegance to the patio umbrella but good for air circulation. It is worth mentioned that multiple vents facilitate the flow of hot and cold air that not only make the umbrella more stable but cooler underneath.

⛱️ Auto-Tilt System & Crank Operation ⛱️ The 10ft outdoor umbrella comes with built-in user-friendly crank which is easy to open as well as close. Besides, replace tilt push button with auto-tilt system, the patio umbrella is super easy to adjust tilt by crank and maximum shade for your outside enjoyment.

⛱️ Heavy-duty Aluminum Pole and Ribs ⛱️ Support by premium aluminum pole, the outdoor umbrella is durable and not easy to get rusty that will be an ideal patio furniture for a long time. Besides, 8 solid aluminum ribs of the outdoor umbrella enhance durability to the patio umbrella. Additionally, the patio umbrella is lightweight yet solid.

⛱️ Bring More Shade for You ⛱️ 10ft patio umbrella comes with heavy-duty fabric which is waterproof and breathable. So It is ideal for you to shade and rain protection. And it is also suitable for both residential and commercial locations. More, unique tilt design maximize shade by tilting the canopy as the sun's position changes.

⛱️ Multifunctional & Easy Assembly ⛱️ Outdoor umbrella can works in a lot of places such as patio, garden, balcony, or deck. In addition, a properly sized rod can be inserted into the hole in the center of table. Of course, this outdoor umbrella can also use with base( not include). With strap, the umbrella can be fixed when close. More, it is easy to put together without hardware.
This post contains affiliate links.