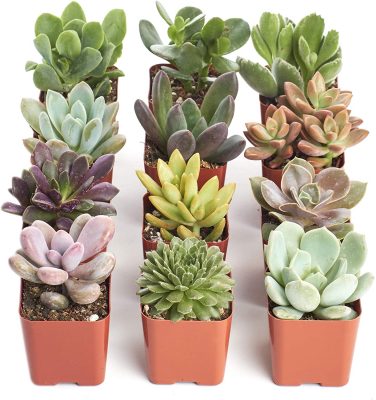 This deal will make a great gift or a unique way to decorate! Today only, save 20% off Plants and Succulents from Shop Succulents. These 2-inch succulents are popularly used as favors for weddings and events. These packs include a beautiful array of colors and textures that are intended to amaze. Each plant in these assortments will be a different species! Succulents come rooted in soil, in their 2-inch square pots and no two succulents are alike. Perfect favors for weddings, baby showers, and events. Beautiful color schemes that will light up a room. Please be sure to promptly remove the plants completely from their boxes. Often times the plants will need a little water, sun, and some loose soil gently brushed from leaves after transit. Click here for the Shop Succulents | Unique Collection | Assortment of Hand Selected, Fully Rooted Live Indoor Succulent Plants, 12-Pack, only $23.99 today!
INCLUDED IN PURCHASE | (12) unique assortment of succulents in 2″ pot Each plant may vary from pictures shown as plants are hand selected based on season, size, health, and readiness

WATERING NEEDS | Succulents are very sensitive to overwatering, and damp soil can cause root rot Dry out soil completely between waterings Recommended amount is once every two weeks Tip: top inch of soil should feel dry before watering again

FERTILIZING NEEDS | Fertilize every two to four weeks during spring and summer Withhold fertilizer during the fall and winter months

SOIL | SUN | POTTING | Use well-draining soil Regular potting soil or dirt won't do Use cactus soil/mix potting soil with sand/pumice/perlite Approximately 6 hours of sun per day Gradually give plant more sunlight each day

CUSTOMER ASSURANCE | We strive to provide the highest quality plants delivered If plants arrive damaged or unhealthy, we will issue a full refund or replace your plant
This post contains affiliate links.