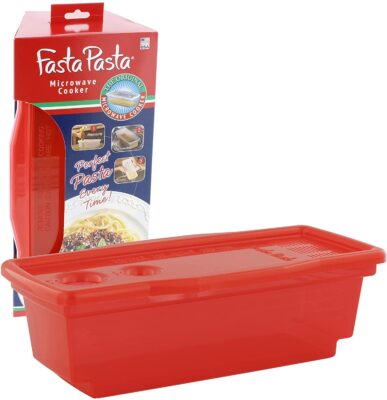 Click here to save 20% Off Pasta Makers from Fasta Pasta and CucinaPro! Microwave Pasta perfectly – Really! – Just ask the dozens of chefs like Rachel Ray who have used this for years. No waiting for a big pot of water to boil. Cook pasta to al dente perfection in the microwave! Saves time, energy and water. Use with spaghetti, fettuccini, macaroni, lasagna noodles, rotini and more. Will not boil over. Cooks evenly without sticking. Great for dormitory, motor home, boat or cabin. Dishwasher safe. Food safe microwaveable material. Made in the USA. Color: Red. Get this Microwave Pasta Cooker- The Original Fasta Pasta (Red)- Quickly Cooks up to 4 Servings- No Mess, Sticking or Waiting For Boil- Perfect Al Dente Pasta Every Time- For Dorms, Small Kitchens, or Offices for only $11.99! 
Cook perfect pasta faster than ever with the Fasta Pasta Microwave Cooker! Same as the Original Fasta Pasta, now in a stylish Red color! A must-have for people living in high altitude- cook perfect al dente pasta before your water starts boiling on the stove

The perfect way to enjoy home cooked pasta without the waiting and hassle. No more waiting for water to boil, and no more messy clean up!

With its patented reservoir design, the Fasta Pasta allows water to circulate throughout, ensuring perfect al dente pasta every time – and no boil over! One serving of spaghetti will generally take about 12-13 minutes

It's easy! Just measure, cook, and drain your pasta with one simple container in minutes. Plus the Fasta Pasta is easy to wash, so even clean up is a breeze!

Dishwasher safe. Food safe microwaveable material. Made in the USA. Color: Red
This post contains affiliate links.