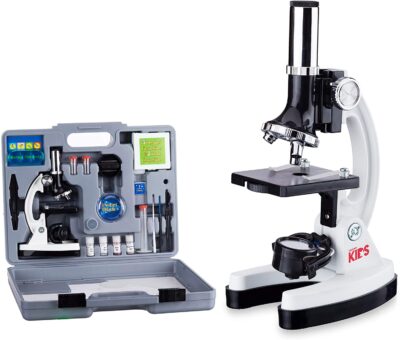 Ready to use right out of the box – this is a great starter kit with 49 accessories and hard sided plastic ABS case. Create your own discoveries with reusable blank slides and covers, tweezers, eye dropper, Petri dish and more. With 49 accessories included and an easy to carry case kids can conduct safe and fun experiments and activities all on their own. Today only, score the AmScope 120X-1200X 52-pcs Kids Beginner Microscope STEM Kit with Metal Body Microscope, Plastic Slides, LED Light and Carrying Box (M30-ABS-KT2-W),White for only $31.50!
Beginner compound microscope provides high magnification for educational applications

Monocular viewing head with LED and mirror illumination and built-in color filter wheel. Field View: Widefield, Stage: Single-layer Stage with Clips

Forward-facing rotating turret provides 120x, 240x, 300x, 480x, 600x, and 1200x magnifications

Coaxial coarse focus has a rack-and-pinion focus mechanism on a durable and stain-resistant white metal frame

Comes with 52-piece accessory kit and hard-sided plastic ABS case

included components: Microscope Kit
This post contains affiliate links.