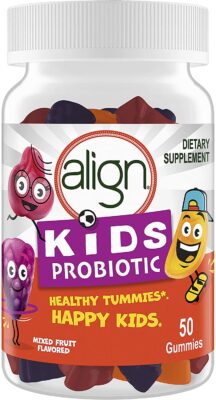 Today only, score 20% off on Align Probiotics and Pepto Bismol Chewables. Good bacteria are essential to support your child's healthy digestive system. Align Kids Probiotic Gummies are made with a prebiotic to nourish the good bacteria in your digestive system, and a probiotic to add more good bacteria. Plus, every gummy is packed with great-tasting natural fruit flavors and has less than 1g of sugar per gummy. Align Kids Probiotic Gummies contain the probiotic Bacillus Coagulans and the prebiotic inulin. Get Align Kids Probiotic, Digestive Health for Kids, Prebiotic + Probiotic, Mixed Fruit Flavor, 50 Gummies for only $14.79 today. 
DUAL BENEFIT OF PREBIOTICS+PROBIOTICS. Align Gummies support your child's digestive health in 2 ways: a prebiotic, Inulin, to help nourish existing good bacteria & the probiotic, Bacillus Coagulans, which adds more good bacteria to their digestive system

GREAT-TASTING AND CONVENIENT. Align Probiotic Gummies taste great, are easy to chew, and don't require water to take. They're the good-for-you supplement that your kids will actually look forward to taking

NATURAL FRUIT FLAVORS AND LESS THAN 1G OF SUGAR PER SERVING. Some gummies claim to support your health, but are loaded with sugars and artificial colors. Align Gummies are naturally flavored and contain less than 1g of sugar per serving

THE #1 DOCTOR RECOMMENDED PROBIOTIC BRAND

AN EFFECTIVE LEVEL OF COLONY FORMING UNITS. Align Prebiotic + Probiotic Gummies contain 500 Million CFUs – the effective dosage of our probiotic strain to support your child's digestive health
This post contains affiliate links.