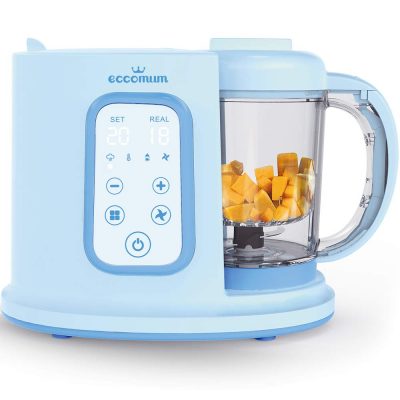 Today only, save 20% off Eccomum Baby Products! You'll find bargain must-haves for parents like: carrier, breast pump, baby towels and many more. This electric baby food maker comes with a 650ml blending bowl, great for making a quick meal, reheating baby food, warming milk or cooking several portions at a time. It is a great way to keep all the valuable nutrients in it. Get theBaby Food Maker Eccomum Baby Food Processor Multi-Function Cooker and Blender for only $48.99. 
?【Multi-Function Baby Food Maker】 Our multi-function Baby Food Maker allows you to STEAM, BLEND, WARM MILK, CONSTANT TEMPERATURE. Suitable for all vegetables, fruit, meat, chicken and fish – Meet all your needs with eccomum baby food processor!

?【360 Rotating Steam Heating】The baby food maker can steam all the baby's foods, which is a great way to keep all the valuable nutrients in it. You could quickly cook multiple meals at one time, it also comes with a steaming basket to meet a variety of baby food making.

?【Quick Smooth Blend】The baby food steamer and blender is equipped with a 1000ml blending bowl and 18/8 stainless steel blades. Premium precision blade makes it fast and easy to quickly chop/puree. Perfect for making fresh fruits, vegetables, and meat puree. You could also remove the blades to clean separately, and it is easy to install.

?【Warmer Milk & Constant Temperature】The diameter of the water tank is 3.1 inches, and it's able to put in most of milk bottles. Liquid in the bottle can be easily and quickly heated in few minutes, It's very fast and convenient. LED digital baby food maker provides preset time / real time display.The baby food maker could keep milk and baby food at a constant temperature to prevent nutrition loss.

?【Easy to Operate & Clean】The baby food maker comes with a LCD control panel that's easy to use so you can select the settings and cooking time that you want. Simply press one button to steam the food and then press another button to chop it and meet all your baby needs. Wide opening water tank with rotary cover for easy water pouring, visual control and cleaning.

?【Warm Tips】Due to some foods have pigments such as: carrots, pumpkins. The steam basket and the spatula may be dyed during steaming. Take care when removing containers, lid and food, as they are hot, steam can be scalding. Press on/off button for pause during the working process is going, you can change the working process and then press on/off button again continue the working.
This post contains affiliate links.