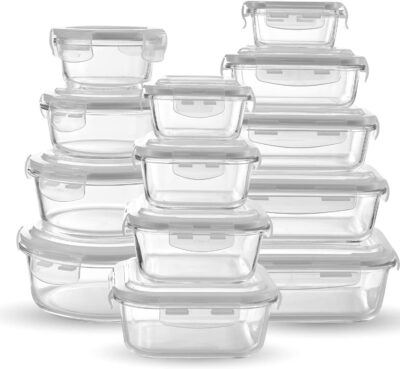 Upgrade your kitchen with 20% off Chef's Star Kitchen and Dining items. Choose from essentials like steamer pots, frying pans, tea kettle and an awesome serving platter discounted today! Get the Chef's Star Glass Food Storage Containers, Glass Meal Prep Container Organizers and Storage with Airtight Leak Proof Lids Set of 13 for only $35.19!
13 Piece set; Your complete bundle comes with 13 glass containers with lids; Allows you to organize your pantry like never before; This set comes in a beautiful box which makes it an ideal gift for any family

Chef's star glass containers are durable and safe to use from freezer to the oven; Glass containers won't absorb stains or smells, making it the perfect choice for acidic foods; Glossy surface maintains the tastiness of food for long periods of time

Our vacuum sealed containers are designed with air tight locking mechanism that allows you to store food, leftovers, snacks, pre made meals, and even soups and liquids without any spills; Our leakproof lids keep your food fresher for longer

These glass containers are a great way to keep your fridge neat and organized; Unique sizes: 4x square containers; 5.7 Oz, 10.5 Oz, 18 Oz, and 27 Oz, 4x round containers; 7.3 Oz.; 13 Oz.; 22 Oz., 33 Oz. 5x Rectangular Containers; 6.3 Oz.; 12.5 Oz., 21.3 Oz., 35.2 Oz., 51 Oz.

Oven, microwave, freezer, and dishwasher safe; These containers are oven safe for temperatures up to 700℉; You can also use them for freezer storage; Microwave and diswasher safe; Easy to use, easy to clean; Note: The lids are not oven or microwave safe; Please remove the lids before heating and cooking food
This post contains affiliate links.