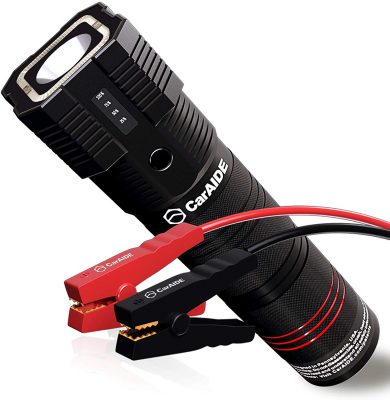 Dead battery? The CarAIDE 3X Multi-Tool is an 18-in-1 gadget that will jump-start your car with no jumper cables or second car needed. Plus, it will also charge your phone and laptop, cut a safety belt, break a car window in case of emergency, and scare away an attacker. This multi-tool includes a flashlight and emergency SOS flasher, burglar alarm, and a built-in compass in case you find yourself broken down at night. The CarAIDE 3X Multi-Tool works with any car, boat, motorcycle or ATV that uses a 12V battery. It's slip-resistant, shock resistant, water and dirt resistant, and fits easily into a car door, glove compartment or cup holder. Today only, get the 18-in-1 CarAIDE 3X Multi-Tool 12V/1000A Jump Starter for $82.99.
POWERFUL JUMP STARTER: 12V 1000A Peak Current is strong enough to jump start vehicles with up to 4.0 L Gas Engine (not Diesel Engine)! CarAIDE 3X Works with cars, motorbikes, ATVs, UTVs, mower, yacht and snowmobiles, etc.

SMART USB POWER BANK: Designed with dual USB output (5V/2.1A, 5V/1A).

COMPACT ESCAPE TOOLS: Compass, Thermometer, Hook, Emergency Rope, Emergency Alarm, Window Breaker, Seat Belt Cutter, Industrial Magnet.

MULTI-USE MEGA LIGHT: 260 Lumin Flash Light. Please avoid direct eye contact. Come with SOS Light, Mega Light (260 Lumin), Emergency Light.

ERGONOMIC DESIGN AND SAFETY PROTECTION: Ergonomic Handheld, Water Resistant, Dirt Resistant, Shock Resistant, Slip Resistant, Kids Lock.
This post contains affiliate links.