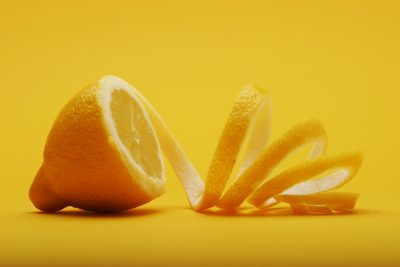 Lemon peels smell great and have so many household uses – some of which I found quite surprising. Even Martha Stewart likes to repurpose them. While the peels are great for cooking, there are so many other ways they can be useful around the house.
Here are 17 ways to use lemon peels.
Add to ice cubes. Add lemon peel twists to your ice cube tray and freeze. They'll make your drinks look "a-peeling."
Keep brown sugar soft. Lemon peel or apple slices added to your container of brown sugar can help keep it moist and easy to use.
Trash can de-odorizer. Forget the Febreeze – go natural! Throw some lemon peels in the bottom of the trash can to absorb odors. Toss in a few teaspoons of baking powder for extra scent cleansing power.
Fridge freshener. Place a bowl of lemon peels inside your refrigerator to absorb smells.
Diffuse into the air. Scentsy too overpowering? Instead add lemon peels to simmering water. You can also throw cloves or cinnamon sticks into the water for a light, pleasant scent.
De-stink your garbage disposal. I've been doing this for years. Drop lemon peels or pieces into your garbage disposal and grind them up.
Lemon zest. A common ingredient in many recipes, you can make lemon zest with a grater and freeze excess for later use.
Clean your teapot. Get rid of unsightly mineral deposits by filling your kettle with water, then add a few lemon peels and boil. Turn off the heat and let sit for an hour, drain, and rinse well.
Sanitize your cutting board. Clean your cutting board then rub the surface with half a lemon. Let it sit for a couple of minutes, then rinse.
Remove soap scum and hard water stains. The acid from lemon will remove these ugly stains from your shower doors. Take half a lemon rind with pulp still intact, sprinkle salt inside for its abrasive properties, and rub directly on shower doors. Rinse.
Clean your microwave. Add lemon rinds to a microwave-safe bowl filled half way with water. Cook for five minutes, allow the water to boil and the steam to condense on the walls and tops of the oven. Remove the hot bowl and wipe away the mess with a towel.
Make an all-purpose cleaner. Add the lemon peels from several lemons to a large jar and fill with white distilled vinegar. Allow the solution to steep for a few weeks. Strain out the peels and use the vinegar solution for de-greasing and disinfecting. Add to a spray bottle for easier use.
Coffee Cup Stain Remover. Put lemon peels into a stained coffee mug and add water. Let it sit for several hours, then wipe with a cloth.
Pest deterrent. Place slices of lemon peel anywhere household pests dare to tread. Ants and many other insects do not like lemon and will stay away. Cinnamon also repels ants.
Deodorize your dishwasher. Add lemon peels to help rinse and deodorize it.
Add to smoothies. The rinds add a light flavor without bitterness.
Prevent Fruit Oxidizing. Some fruits, like apples, turn brown when exposed to the air. You can slow this process by squeezing some lemon juice over the fruit.
How do you use lemon peels?