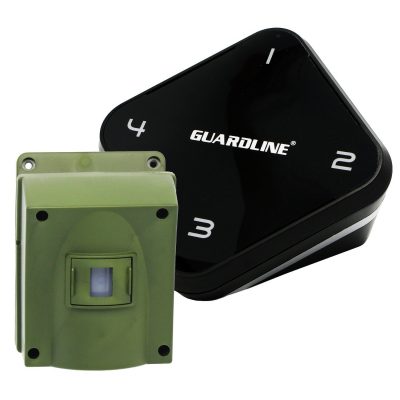 Worried about someone entering your property without your knowledge? The Guardline wireless driveway alarm alerts you the moment the outdoor sensor detects motion from a person, vehicle, or large animal. Get the 1/4 Mile Long Range Wireless Driveway Alarm today for only $99.99.
EXTREMELY DEPENDABLE – Two years of testing went into developing a reliable motion detector that will dependably alert you to motion around your property. Tested through thick forestry, hail storms, gusty winds, heavy rains, scorching heat, and snow. False alarms are minimized due to an adjustable detection width option for the sensor "eye" and a swivel mount to focus the detection angle of the sensor.

SUPER EASY TO INSTALL- Quick Start Guide has you operational in minutes! Expandable up to 16 sensors and unlimited receivers for complete coverage of your perimeter. Over 30 fun & unique chimes to choose from. Match different chimes with different sensors around your property to differentiate where motion is being detected. Detects movement from humans, cars, and large animals.

REALISTIC RANGE- 1/4 mile long range has been tested in real world settings with trees, buildings, walls, and vehicles in order to make true and realistic wireless range claims (please note: extra heavy interference such as thick walls, metal siding, tall hills, and many trees will diminish the wireless range).

BUILT TO LAST- Outdoor sensor is made with industrial grade PVC housing, rubberized weather resistant seal, and a sunshade. Wireless sensor can be installed anywhere and runs on (4) AA batteries for up to one year. Receiver is packed with features including LOUD & adjustable volume, battery backup, and a 12-volt relay to add wired external alarms.

AWESOME SUPPORT- Guardline Security is a Seattle-based small business that has been manufacturing security products since 1999. We are local guys who are driveway alarm geeks and we're obsessed with building reliable, quality products. We offer friendly and knowledgeable USA based tech support that will help you both before and after your purchase. Two year manufacturer's warranty.
This post contains affiliate links.