Are you looking to celebrate the New Year without breaking the bank? If you're okay with staying in there are TONS of ways you can save money when hosting your own frugal New Year's Eve party. Here are a few of our favorite tips.
10 Ways to Throw a Frugal New Year's Eve Party
1. Reuse Christmas Ornaments
One easy way to save on decorations is by repurposing Christmas ornaments into NYE decorations. Have any silver or gold ornaments? What about white lights? These would all be perfect for adding some festive flair to your event. A few easy ideas are to use ornaments as place settings, hang white lights to create a soft ambiance, or  fill a vase with round ornaments. Cute and quick!
2. Make it BYOA 
Everyone has heard of BYOB but a great way to save is with BYOA – Bring Your Own Appetizers. Slaving away all day in the kitchen is too much work after the Christmas holiday (at least for me!) so instead, ask friends to bring their favorite appetizer. This is a great way to get a wide variety of food for low cost for everyone!
3. New Years Predictions
Have friends write down their predictions for the New Year and put them in a big bowl. Then, at the end of the night or during dinner read them out loud and guess whose is whose! You may be surprised at how hard it is!
4. Watch the Times Square Ball Drop
I don't know if this is because I'm from New England, but my friends and I are obsessed with the Times Square Ball Drop! It's a fun way to count down to the New Year and is always a huge crowd pleaser. Putting on the TV is a great way to add to the fun for FREE!
5. Make Homemade Desserts
I use the word homemade loosely here. Basically, don't buy desserts at the bakery or grocery store. Instead, make a cake-mix cake or a simple dessert. Want to look fancy without all the effort? Try these chocolate party spoons by Delicious Delicious Delicious. Yum!
6. Limit Guests
If you're looking to save on cash you'll want to limit your guest list. This will decrease the price on everything from food to drinks PLUS it will make it easier for you to see everyone. You want to be able to relax at  your party not spend the night running from room to room playing host. For this reason, I try to limit my get togethers to 10-15 max.
7. Play Board Games
Okay, okay, board games make seem like a lame idea BUT they can be a great way to gather everyone together and can be hilarious. A few favorites among my friends are:
Heads Up! –  This $0.99 iphone app is well worth the $1 price tag. The app has you guess the word on the card that's on your head from your friends' clues before the timer runs out! There are 18 categories to choose from ranging from animals & movies to adult supervision. This makes it perfect for adults and kids alike. Even better, the app takes a video of people playing which is almost as fun to watch as playing the game.
Cards Against Humanity – This is definitely an adult game but it's also really funny. The game is very simple, "Each round, one player asks a question from a black card, and everyone else answers with their funniest white card." The catch is that these cards have crazy and outlandish sayings so be ready for some ridiculous combinations.
8. Make Champagne Sangria
If you want to save on booze making one mixed drink is a great way to do it. Champagne is a must at New Years so this is the perfect combinations. Want to try it out? I'm obsessed with this recipe by Michael Chiarello.
9. Make a Photo Booth
Find props around your house (think funky hats, sunglasses, or even scarfs) to make a fun photo booth. You can also download these FREE photo booth printables for some fun accessories.
10. Use Real Plates and Glasses
You may be thinking it will be easier to use paper plates and cups BUT the cost adds up quickly! Empty your dishwasher before the party to make room for used dishes and glasses. You can always run the dishwasher once during the party or hand wash a few if need be!
What are you doing for NYE?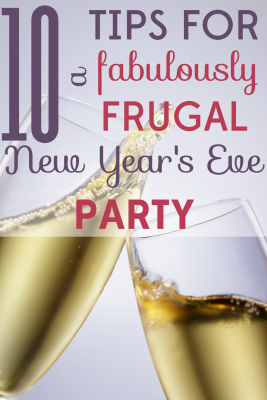 This post contains affiliate links.