The holidays are a time of great indulgence. Eggnog, sweets, rich foods, sweets, second helpings, more sweets. It's okay to snack a little, but why not include healthy recipes for Christmas and Chanukah, too? After all, you don't want to wind up with Santa's waistline and the kids are already bouncing off the wall from all that sugar. (The average person gains five pounds during the holidays.) Whether you need to bring something to a holiday party or you're putting together something for your kid's classroom celebration, here are a few eye-catching alternatives that everyone will be talking about.
Here are 10 healthy recipes for Christmas and Chanukah
1. Santa strawberries (above). Our suggestion – swap mini chocolate chips for currants or raisins cut in half for the "eyes." The "beards" and pompoms can be fashioned out of light whipped cream cheese with a touch of vanilla whipped in. (Source: Vegan Chef Mark Anthony on Pinterest.)
2. Pear tree. All that's missing is the partridge! Use pear or green apple slices, cheese for the star, raisins and a "trunk" made of pretzel sticks or a cinnamon stick, if you prefer. (Source: 360 Family Nutrition)
3. Cheese cut with festive cookie cutters – Every year for my daughter's school party, I bring cheese that I've cut with Christmas cookie cutters. They're easy to make and there are never any leftovers. (Source: Good Life Eats)
4. Banana snowman – This snack is sure to please the little ones. Work with what you've got – raisins, currents, fruit of your choosing. (We swapped mini chocolate chips for raisins.) Put on a skewer or arrange on a plate. (Source:  Trax at Home.)
5. Christmas tree veggie platter – Again, you can be creative. Use broccoli, tomatoes, cauliflower for snow, yellow peppers for the star and pretzel sticks for the trunk. Get creative – you can add chopped peppers of different colors for additional ornamentation. (Source:  Pinterest)
6. Candy cane without the candy – How easy is this? Your kids will smile and you'll be glad they're not reaching for another sugar-laden snack. (Source: Wooloo.ca)
7. Olive penguins – These little guys are almost too cute to eat! They are made with black olives, raw carrots and cream cheese or round buffalo cheese balls. Skewer with a toothpick and you're good togo! (Source:  Foodie With Family.)
8. Slim Santa – The folks who came up with Play With Your Food are so silly and fun and brilliant. We just love this Santa fashioned out of a red apple, cauliflower and radish – this would make an adorable holiday centerpiece.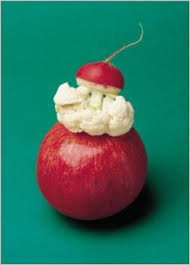 9. Snowman cheesesticks – Another treat that's perfect for that classroom party. Decorate with black and orange Sharpies, black card stock paper hats and ribbon of whatever color you prefer. (Source:  NoBiggie.net.)
10. Grape tree centerpiece – A styrofoam cone from a craft store (like Michael's) provides the framework. Attach grapes and starfruit slice with toothpicks. Grated coconut can be added to the base for a snowy look. (Source: teachingblogaddict.com)
 What are your favorite healthy holiday recipes?