Halloween may be right around the corner but there's still time to complete a few spooky Halloween decorations. This list includes projects for crafting beginners and experts so there's sure to be something for everyone! Even better, these crafts should cost you $10 or less. Wow!
10 Spooky and Cheap Halloween Decorations
1. DIY Enchanting Halloween Lanterns –  This craft is made easier with a FREE template. You'll need different sized mason jars, a black paint marker or black acrylic paint, and purple spray paint to make these cool lanterns. This project is simple as you just spray paint the glasses purple and then trace the template. Add candles and you're done! For a step by step tutorial head here.
2. Glow in the Dark Eyes – For this craft you'll only need three items: toilet paper rolls, glow sticks and scissors. To make this craft just take the toilet paper rolls and cut out different eye shapes. Then, put a couple of glow sticks in the roll and duct tape the sides. Place around your home or outside in bushes to create some spooky fun.
3. Baby Spider Sacks – To make these creepy sacks stuff a white stocking with cotton and adorn with spiders. The spiders should stick easily to the stocking BUT you can use a glue gun to make them more secure. If you really want to amp up the scare factor use string or floss to hang a few spiders from the sack. You should be able to find a pack of spiders for a dollar at the dollar store so this scary project shouldn't cost you more than $5!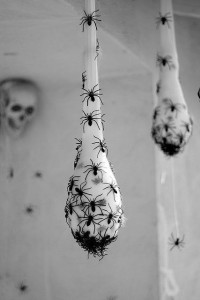 4. DIY Giant Spider Web – This craft may look expensive but according to the Crafty Lumberjack it only cost $3 to make. Wow! To make this spider web you'll need yarn, scissors, scotch tape and a creepy spider! This craft is a little time consuming but the results are worth it. For the full tutorial (complete with pictures!) head here.
5. DIY Window Clings – To make these cute window clings you'll need puffy paint, a sheet protector, toothpicks, and clipart images to trace. Then, you just trace the images with puffy paint onto the sheet protector. Use a toothpick to help fill in missed areas and smooth. Allow to dry overnight.
6. Halloween Pumpkin Archway – This project is a great way to take advantage of after Halloween sales. The archway uses 30 halloween plastic pumpkins that were bought on sale for 3/$1. That makes this project only cost $10! To complete this project you'll just need some PVC pipe, rebar poles, couplers, and a drill. This is a great project to get kids excited for Halloween! I don't know about you, but I'll but looking for pumpkins on sale this year!
7. DIY Mummy Door – This Halloween craft uses streamers, construction paper, and double sided tape to create a cute mummy door. This is perfectly festive without being too scary looking for little kids! For more complete instructions head here.
8. Balloon Pumpkin Patch – This quick and easy craft is certain to be a hit with kids. To make this pumpkin patch you'll need orange balloons, candy, glue, a black marker, and green party fringe. Simply stuff the balloon with candy (about 3-5 treats), blow up and tie, glue party fringe to the top of the balloon, and draw on faces.
9. Creepy Ice Bucket – Use a glow stick to turn a simple ice bucket into a witch's cauldron. To be safe, I'd put the glow stick into a plastic bag. Other than that, it's simply drop in and done!
10. Monster Doorway– For this craft you'll have to be comfortable using a hand saw. To make this monster you'll need foam board, a hand saw and acrylic paint. Cut our your design, paint your monster's eyes, and hang. You may need to use screws and nails to get the foam board to remain sturdy. This may take a while but the results are seriously impressive. For more detailed instructions head here.
What Halloween crafts are you making?