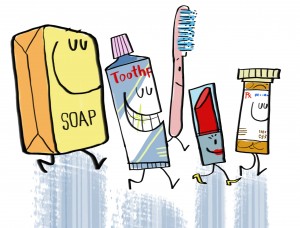 What stores would you like featured here? Leave a comment and I'll do my best to add it to the list.
Target – This week's list of Target coupons has a slew of deals, including Aveeno products for $.30 each, free Shout wipes, and free shipping on apparel.
Staples – Hip 2 Save has not yet updated the hot Staples coupons this week, so check back later.
CVS – Bargain Briana has all the CVS coupon deals for this week, including Dial NutriSkin lotion for free, Aussie or Herbal Essences shampoo, conditioner, or styler for $.49 with coupons, and Crest or Oral-B toothpaste or floss for free with coupons.
Walgreens � Get all the Walgreens coupon deals for this week. Highlights include Clearasil skin care for free with coupons, ArthArrest Topical Analgesic Lotion for free with Register Rewards, and Blistex or Chapstick for $.64.
Rite Aid � Common Sense with Money has the Rite Aid coupon deals posted, including Chloraseptic for free after UP Rewards, Mortrim PM for free with coupons and UP Rewards, and Quaker Oats for $1.50 with coupon.
New to coupons? Check out my post on coupon clipping basics. If you want to take advantage of these deals, make sure to save the coupon inserts you receive in the mail or with your Sunday newspaper. Here�s a great suggestion for how to handle coupon organization.