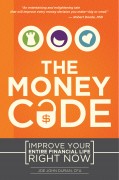 We received more than 75 entries for our giveaway of Joe John Duran's "The Money Code: Improve Your Financial Life Right Now" and a $25 Visa gift card! This personal finance book is different from other finance books. Duran will not put you on a "debt diet" instead he will teach you how your Money Mind has an effect on your money decisions. He'll also take you through his journey of finding five money secrets that will help you live your best life!
I won't make you wait anymore! The winner is…
Michelle Ventresca, who let me know she's a combination of two Money Minds.
I'm a combination of the Commitment Money Mind and Fear Money Mind. I will usually ponder our financial status every month and get nauseous, then push it out of my mind and go out to buy groceries, and see something that costs a little more than I would like to spend, but I figure "we deserve it because we work hard." Is there a happy medium? I hope I find out in the book!!!
Michelle, my hope is that this book helps you understand what's behind your money decisions and changes your relationship with your money.  Email me to claim the book and $25 Visa gift card. Please include an address where the book and gift card can be delivered. You have 24 hours to get in touch, or the book will go to a runner up.
If you missed my review of the book, author Joe John Duran says there are three Money Minds that act like lenses and can influence all your money decisions. By knowing your Money Mind and your partner's you'll be able to stop the money fights!
If you didn't win "The Money Code" and would like to get the book, you can purchase a new copy on Amazon
for $10.17 (orig. $14.95).