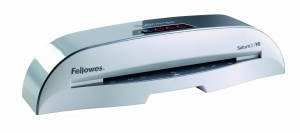 Today we are giving away a $65 Saturn 2 95 Laminator
 from Fellowes! The winner will receive one laminator plus a set of laminating pouches. Entry details below. Don't forget to check out our on-going back to school giveaways.
Here's how to enter to win a $65 laminator from Fellowes.
I'm not what you would call crafty. I have never laminated anything in my life until I received the Saturn 2 95 Laminator from Fellowes. Now that I have a young child, I suppose laminating her "young Picasso" artwork was inevitable. Now we can preserve every art project she brings home from nursery school. There are lots of other uses for a laminator besides preserving artwork – laminating photos, documents, certificates, making placemats, trading cards, game cards…I could go on and on.
How to win this $65 Fellowes laminator. You have 9 chances to win — feel free to do as many as you like!
1. Comment below with what you would laminate with your new laminator from Fellowes!
2. Tweet this msg: Win a $65 @fellowes laminator for #backtoschool at @bargainbabe  #wingiveaways bit.ly/16vgZM0
3. Follow BargainBabe.com on Twitter
4. Share the giveaway on your Facebook page
5. Follow BargainBabe.com on Facebook
6. Follow Fellowes on Facebook
7. Join our freebie email list
8. Repin something from our Pinterest page
9. Follow BargainBabe.com on Pinterest
Leave a comment below for each entry. This giveaway ends Monday, Aug. 19, 2013 at 3 p.m. EST.

You can also enter to win each day on the six other blogs participating in the Back to School Giveaway Bash!
Don't forget to check out the other on-going back to school giveaways.
I received a free copy of this prize to review for this post. This post is copyrighted by BargainBabe.com. Any other site posting this content is violating the DMCA.