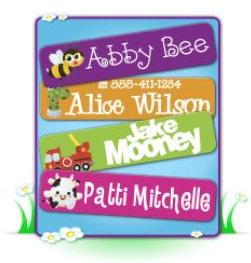 Today we are giving away a $50 package of back to school labels from KiddoTags.com. The winner will receive a credit for the site so you can pick out whatever you need in whatever colors you want! Entry details below. Don't forget to check out our on-going back to school giveaways.
Here's how to enter to win a $50 credit on KiddoTags.com.
The assortment of labels on KiddoTags.com is truly amazing. There are clothing and shoe labels (of course), daily labels for summer campers or events, food and breastmilk labels, storage bin labels, tween labels, and more! Plus, nearly all KiddoTags labels are dishwasher safe, laundry safe, microwave safe, water proof and weather proof!
How to win this $50 KiddoTags.com credit. You have 9 chances to win — feel free to do as many as you like!
1. Comment below with what you would like to label.
2. Tweet this msg: Stop by @bargainbabe to win a $50 @kiddotags credit for #backtoschool #wingiveaways bit.ly/1ct1qcH
3. Follow BargainBabe.com on Twitter
4. Share the giveaway on your Facebook page
5. Follow BargainBabe.com on Facebook
6. Follow Kiddo Tags on Facebook
7. Join our freebie email list
8. Repin something from our Pinterest page
9. Follow BargainBabe.com on Pinterest
Leave a comment below for each entry. This giveaway ends Wednesday, Aug. 21, 2013 at 3 p.m. EST.

Whether or not you win this giveaway, you can save 25% off your entire KiddoTags.com purchase with exclusive coupon code BTS2013. Expires Oct 1, 2013.
You can also enter to win each day on the six other blogs participating in the Back to School Giveaway Bash!
Don't forget to check out the other on-going back to school giveaways.
I received a free copy of this prize to review for this post. This post is copyrighted by BargainBabe.com. Any other site posting this content is violating the DMCA.