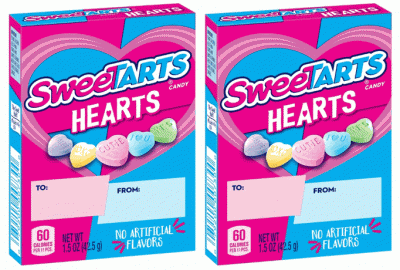 Free SweeTarts Candy Heart Box for Kroger & Affiliates-This Friday, download an ecoupon good for a free SweeTarts Candy Heart Box (1.5 oz.) from Kroger & Affiliates. This coupon is available only on Friday February 9th but may be redeemed through 2/14/18. 

Free Sample of eXO Face Moisturizer-Go through their Facebook post here and submit your contact details to request your free eXO Face Moisturizer sample. Allow 6-8 weeks for delivery.
Free US & Israel Unity Pin-Click here to request your free US & Israel Unity Pin. Available for a limited time, while supplies last.
Free Subsription to Money Magazine–Click here to fill in a simple survey and request your free subscription to Money Magazine from RewardSurvey! Available for a limited time.
Free SmartyPants All-in-One Women's Complete-Register or log in to your Social Nature account to try SmartyPants All-in-One Women's Complete for free! Click the "I Want It" button and if you're selected you'll get a free 6-gummy sample pack. 
Free Sesame Street Fire Safety Color & Learn Activity Book-Simply add this adorable copy of Sesame Street Fire Safety Program Color and Learn Coloring and activity Book to your cart and checkout to get it for free. Delivery could take up to 10 weeks.
Free Georgette Klinger Skincare Sample Kit (Email)-Simply send an email to info@klinger.com with your name and address. They will send you up to 4 samples of your choice with free shipping! Click here for more info. 
Free Froyo at Yogurtology Today February 6th-Stop by your local Yogurtology and enjoy a free 6 oz. frozen yogurt. Valid all day at all locations! Find your closest Yogurtology by clicking here.
Free 8×10 Photo Print at Walgreens-Simply add the 8 x 10 print to your cart and use the promo code: VDAYFREE when checking out to get this for free! If you choose in-store pickup you'll pay absolutely nothing. This offer is valid through 2/6/18, so don't miss out.
Free Watermelon Coloring Books, Stickers, Recipe Cards & More-Doesn't watermelon sound AMAZING right about now? Click here to get free Watermelon swag from Watermelon.org! Simply add the freebies to your cart and check out to enjoy!
Free Step 2 Toys Opportunity-Would you and your children like to try Step 2 toys for free? Here's your chance to apply for a testing opportunity! Click here and fill in the form by February 8th to see if you qualify. 
This post contains affiliate links.