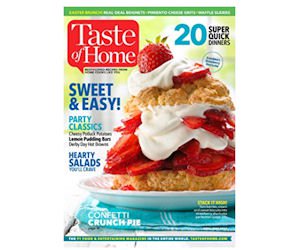 Free Subscription to Taste of Home Magazine- Get your free subscription courtesy of FreeBizMag! Click here and fill in your shipping info to start receiving Taste of Home! Available while supplies last!
Free Audiobook download of Pride & Prejudice- Click here and enter your email address to download your free audiobook!
Free Sample of Exuviance Performance Peel AP25 Skincare- Fill in your shipping details here to request your free sample. While supplies last!
Free Star Trek Cards-Join TrekFan and earn a free pack of trading cards. Fill out the form and select that you live in the US, then you will be able to request your freebies!
Free Pancakes with IHOP Pancake Revolution- Lots of free pancakes coming your way when you join the IHOP Pancake Revolution! You will earn free pancakes for signing up, each year on the same join date and when your birthday rolls around! Score!
This post contains affiliate links.