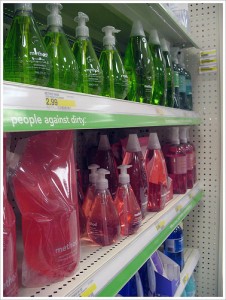 Choosing natural cleaners over conventional cleaners is not only eco-friendly and healthier for your family, but it can also save you money. In a previous post Bargain Babe put homemade cleaners to the test and found that they do work. Discover secret uses for common kitchen items that aren't packed with chemicals. Below, three natural brands you can rely on.
In the bathroom:
Instead of bleach to clean a porcelain sink, tub or tile, use baking soda.
Instead of diluted bleach to remove the rusty rings in the toilet bowl, use white vinegar.
Instead of window cleaners to leave the bathroom mirror squeaky clean, use white vinegar and old newspaper or club soda.
Instead of bleach to get rid of mold, use white vinegar.
In the kitchen:
Instead of all purpose cleaner, use white vinegar, baking soda and lemons to clean the microwave. Use the baking soda to scrub it down if you have stuck on food (don't worry, it won't scratch the surface). The vinegar to wipe it clean. And the lemons to make it smell better. Add the lemons to a bowl of water and heat the water.
Instead of coffeemaker cleaners to whiten and make your cup of Joe taste better, use white vinegar. Add a cup of vinegar and some water, and run the coffeemaker. Make sure to run the coffeemaker again to rinse out the build up left inside.
Instead of Ajax scouring powder to clean the kitchen sink, use borax.
Instead of smelly oven cleaners to leave your oven clean and smelling good, use baking soda.
Throughout your home:
Instead of furniture polish to polish wood furniture and cabinets, use mineral oil.
Too busy, to make your own concoctions? No problem. Try some of these ec0-friendly brands. The best thing about these brands is they can me found at large retailers like Target, Whole Foods and Trader Joe's.
Seventh Generation – Although this all natural line can be kind of pricey,get coupons by signing up on their website. The brand carries all kinds of products from laundry soap, multipurpose cleaners, feminine products and baby diapers. I've found that Target sells this brand at a lower price than Whole Foods. But sometimes you can find good deals at Whole Foods. Don't forget to check out Whole Foods' The Whole Deal coupon and recipe booklet that gets published every month. In the past, they have included Seventh Generation coupons that you can combine with manufacturer coupons.
Method – This rand makes laundry soap, hand soap, body wash, floor cleaners and much more. It can be found at Target, Whole Foods, and chain grocers. I like Method cleaners because they are comparable in price to conventional cleaners and the fragrances smell great. I just finished using a pine scented hand soap ($2.99) that I bought for the holidays. The containers are made from 100% recycled plastic.
Next to Godliness – This is a biodegradable Trader Joe's brand. The line includes powder and liquid laundry soap, and dish liquid. I have used their liquid laundry soap ($8) and dish liquid ($2) and have had good results with them. The products are inexpensive and smell great.