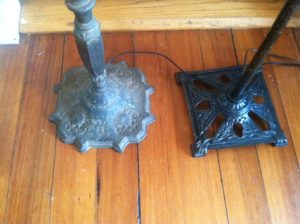 I'm redecorating my entire living room with the money I made from selling my husband's Vespa. A new burgundy sectional from Macy's sucked up almost all the cash, leaving me to scrounge for the remaining pieces at garage sales and thrift stores.
Right now I'm restoring two cast iron floor lamps, at right. I'm hesitant to call them antiques, as that implies they are rare and/or valuable. It's true that restored iron lamps sell for as much as $1,200 online, but I picked these up for $50 total from a local consignment store. I doubt they are of much value.
You can see which one I've already restored! I scrubbed away a coat of rust and metallic paint with a steel brush before wiping it down with mineral oil, which will prevent new rust from accumulating. The scrubbing process took about 3 hours.
My costs for this project include:
Two iron floor lamps for $50
Steel brush from Home Depot for $2.97
Mineral oil from CVS for $4.97
Two new lamp shades (one came with no shade at all, the other came with an opaque white glass shade) for $12 total at Ocean State Job Lot (a store similar to Big Lots)
No wiring kits needed as both worked when I bought them
Total cost: $69.94 for two beautiful, working floor lamps!
What home projects are you doing to save money?