One of my favorite personal finance blogs, The Digerati Life, asked in a post this week if there is such a thing as a frugal spender. How we spend and save says a lot about who we are, what values we hold tight, and where we are going in life. What we do with a dollar is like a picture – it says more than a thousand words. She writes:
A long while back, I talked about how I balance my efforts to spend and save money. I'd written a post that covered the science behind money behaviors, discussing how frugality is tied to happiness. The key finding was that spendthrifts (those who can't stop spending) and tightwads (those who can't spend at all) weren't as happy as those who were deemed frugal.

Why so? The experts say it's because frugal people are considered more "balanced" in the way they view money and while cost conscious, they are free from compulsions that may overwhelm those who have more restrictive or even obsessive relationships with money.
But of course. Having a healthy relationship with anything requires balance. Swing too far one way or another and you're in trouble. The struggle is to define and maintain that balance. It is easier to lose your balance, even though getting back on track requires more energy than consistently staying balanced. So really, it is being consistent that is the challenge. She continues:
I am familiar with a few people who fall in the extreme ends of what I call "the frugality spectrum" and I've seen how negative money behaviors and tendencies have harmed someone's pocket book and personal relationships with other people. Their inherent attitude towards money has made them miserable — because wanting to fight the urge to constantly spend or save can be frustrating in its own right.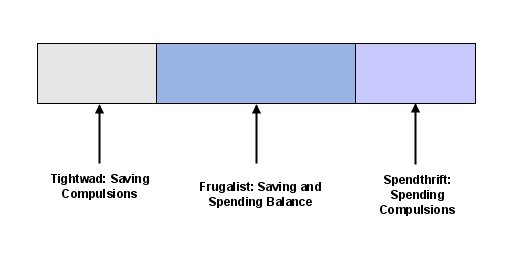 The happiest people out there are those who can find a balance between any extreme, and it also applies to how we handle and manage our money.
Ditto! Next, The Digerati Life provides four profiles of consumers:
They spend much less than they earn but make so much money that they can afford expensive items.
They buy a used luxury car because it's half priced.
They are selective about the high-priced items that they buy and don't make impulsive purchases.
The stuff they buy only looks expensive.

On this note, frugality doesn't mean you have "cheap tastes." It means that you are prudent and deliberate with your spending, and that you place your money on what has "good value." This virtue should describe HOW someone applies their money rather than WHAT gets bought (emphasis hers).
It is soooo tempting to judge people and how much money they have and whether they are spending it "correctly" in a glance. But the truth is you don't know how someone acquired an item. They could have paid full price, they could have gotten it on super sale, or it might have been a gift! We must withhold judgment unless we know. And even then, does it really benefit us to have an opinion on what someone else is doing with their money?
The Digerati Life calls spenders in the middle of the above spectrum "frugal spenders" or "value spenders." I prefer savvy-spenders! She defines them as someone who is basically a saver, who is value-minded, but "splurges when they can afford it."
Do you have a term for your ideal spender? Do your spending habits cause you angst or create tension with friends? I'm sad to admit that I trend towards the tightwad end with occasional splurges that I regret. Well, nobody's perfect.