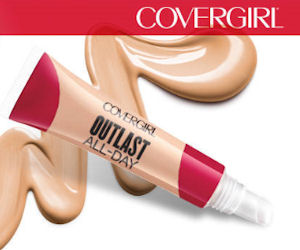 Free Covergirl Outlast All Day Concealer Sample-Go the Insiders' Page and click the "request" button. Once you have registered, log in to your account, click the "What's New" tab at the top of the site and scroll down to find the "Request Sample" button. Supplies are limited!

Free Sun-Maid 100th Anniversary Cookbook- All of Sun-Maid's most popular recipes together in one recipe boolet! This can be downloaded digitally or ordered via USPS. Please allow 6-8 weeks for delivery. Click the "Order Free Booklet online" button and fill out the form to submit your request. 
Free Sample of Twilune Natural Sleep-Aid-This sample goes fast, so hurry! Add the item to your cart (beneath the Free Sample Graphic) and complete the checkout process.
Free Fish Hippie Stickers- Click here to request your free "Fish Hippie" Stickers! 
Free Justice Lipgloss in Store-Download the Justice app on iTunes and click the envelope on the top left to get this offer. In store only and while supplies last.  
Free Samples of Emergen-C, Immune+ & Emergen-Zzzz- New sample offers available! Sign up here and fill out the form to receive these three sample products.
Free Red Velvet Cupcake Yup Bar- New customers can sign up for a free sample by clicking here. Allow 3-4 weeks for delivery.
Free Custom Woodford Reserve Labels– After entering your birthday, select the option "personalized label" under Distillery link on the top right of the screen. You will be given the opportunity to create and order labels for free! Click here to get started.
Rachael Ray Dish Dry Dog Food Sample- This sample is available again! These go fast, so don't wait if you'd like to sign up! Click here to select your offer while supplies last. 
Free Meal Donation with Sam's Club Membership- With a simple text, Sam's Club members can donate 12 meals for free to Feeding America. Simply text MEALS to 35350 and General Mills will provide the $1.08 which is enough to supply 12 meals! Ends 3/31/17 or when the maximum amount of $150,000 has been met.
Join Old Orchard Fan Club & Earn Free Juice!- Once you have joined the club here, you will be eligible to earn points redeemable for lots of free stuff, including free juice coupons!
Free Download of Clash-A-Rama Season 1– Google Play is offering this season for free to download; click here!
Free Breath Right Strips Samples– Register here and then log in to request your free sample of either Lavender or Extra Clear! Allow 1-2 weeks for delivery.
Home Depot Kids Workshop Bunny Basket- The Build-a-Basket event is free and will be held at participating Home Depot locations on April 1 from 9-12. Click here to register for this fun project!
Free Uncle Earl Hand Healing Soap Sample- Subscribe to Uncle Earl's email list to receive your free sample!
Free Times Magazine Subscription– RewardSurvey has a new magazine available (choices may vary). Click here to join and take the survey which can be redeemed for a free subscription. 
This post contains affiliate links.