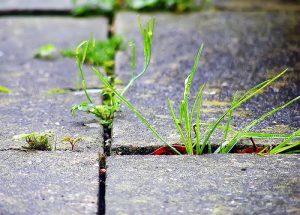 Weeds can ruin a garden, but buying weed control formulas to kill them adds up when one application is not enough. They're called weeds for a reason. Plus, think of all the toxins you'll be adding to your garden. Here are five suggestions to keeping your garden weed free while avoiding toxins and high costs.
Grubbing – This is the best know method for removing weeds in the garden. It doesn't cost much, but requires a lot of elbow grease. Break upground by using a hand rake and pulling out weeds. Make sure to dig for the roots or else they will grow back. (Cost: Price of rake that will be reused, about $15.)
Use vinegar – There are many uses for vinegar and killing weeds is one of them. Vinegar is inexpensive and can be bought at dollar stores. (A gallon costs $2-3 at grocery stores). Keep in mind that adding vinegar to your garden will make your soil more acidic, which is fine for plants like blueberries that prefer that kind of soil. For plants that don't, you'll need to balance the soil by adding wood ashes. (Cost: $1 – $3 for large bottle of vinegar)
Use boiling water – A new use for leftover pasta water! You can kill weeds by boiling water and pouring it directly on them. No harsh chemicals and weeds will seldom come back, though you'll need to pour a lot of boiling water on them to make it stick. Make sure no other vegetation is nearby or you'll end up killing it as well. (Cost: Depends on water and gas usage.)
Use mulch and newspaper – Not only is newspaper good for your compost, but you can also use it to kill the weeds. Take the newspaper and spread it over the weedy area. With a hose, wet the paper and then cover with mulch. This will smother the weeds and free space to plant whatever you like. No need to buy mulch as many cities give it out for free. Check with your Department of Public Works. For best results, try doing this during a hot day. (Cost: Newspaper subscription)
Use black plastic bags and cardboard -If you have black trash bags sitting around at home, use them to smother weeds. No need to get the bags wet like with newspaper so you'll be able to reuse them later. Place cardboard on top of the bags to cut light and air from reaching the weeds. Get cardboard for free by asking a clerk at your grocery store if they have extra boxes in back. This is a great way to get moving boxes for free, too. (Cost: Price of bags that can be reused, about $5.)
I prefer grubbing as I like to get in there and tear up my garden until it's clear of weeds. It's also a good stress reliever. How do you prefer to weed?