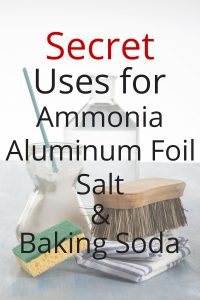 The other day I was in the grocery store gazing at the endless array of cleaning supplies and thought, "we are being scammed." There is no way in the world that all of these products are needed – especially by smart folks who live frugally. So I thought I would share some of my tips to use basic household supplies for every day uses.
1. Ammonia

Wonderful stuff. It's one part nitrogen and three parts hydrogen. Do not mix it with bleach.
Use it to clean your windshield wiper blades. Soak a rag and clean the blade.
Get that horrible smell out of the washer when you left wet clothes in too long. Wash again without soap but with a tablespoon of ammonia.
Don't buy Windex ever again. Put two tablespoons of ammonia and one quart of water in a spray bottle.
2. Aluminum Foil
Use to take rust off chrome. Make a loose ball and scrub. For stubborn stains add some cola.
Best silver cleaner! Put foil on bottom of pan. Place tarnished silver on top (and in contact with) the aluminum foil. Cover with solution of one cup baking soda to one gallon of water. Tarnish disappears like magic.
This one is from my mother. When you get your brand new toaster oven, line the bottom tray with foil. When it gets all full of yucky burnt stuff, just change the foil. Ta-da!
3. Salt
My girlfriend showed me this trick. It works on COPPER-bottomed pots and pans to get rid of discoloration. Mix salt and white vinegar into a paste and put on the copper. Let sit for a bit and then scrub with a steel-wool pad.
Salt and warm water gargle is the best when you are getting a sore throat. Some say to add garlic or cayenne pepper. My kids don't like those things, so we stuck to the salt.
Make a nasal rinse: combine 1/2 teaspoon non-iodized salt and 1/2 teaspoon baking soda with 8 oz warm distilled water. Mix well and then use with a neti pot or nasal spray bottle.
If you live in a humid area and your salt gets clumpy, put raw rice kernels in with your salt. The rice will attract the moisture and keep the salt dry.
4. Baking Soda
Put an open box in your fridge to keep it smelling fresh. Change every six months. Toss the contents in your sink drain along with some vinegar. Let sit for about ten minutes and then rinse.
Make a toothpaste out of baking soda, hydrogen peroxide and a bit of salt. You can also wet your brush and dab on baking soda in your hand. Really, you don't even need toothpaste but most people are used to it.
Use baking soda to clean your walls. A damp sponge and a bit of baking soda will even take off crayon marks.
Baking soda is also strong enough to remove grime on bathroom tiles. It's one natural cleaner that really works!
How do you use household staples to clean?