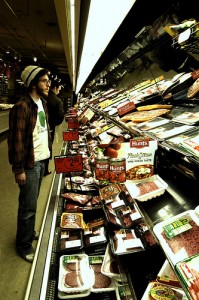 Meat tends to be the most expensive item in my shopping cart and although I am not a vegetarian, I'm considering becoming a Flexitarian to save money.
Flexitarians like eating meat, but go without it now and then for different reasons. One reason is to decrease your environmental impact. Cutting down on meat consumption won't cost you a thing, unlike some expensive eco-friendly changes. In fact, getting protein from non-meat sources will save you $1.05 per person per meal, according to a comparison Bargain Babe did in April 2009.
I easily spend about $35 per week on organic meat for three persons. My plan is to replace some of my meat consumption with protein-filled foods that are cheap. For example, in a past post I shared a yummy lentil recipe that can be made vegetarian by cooking with vegetable broth.
Beans, legumes and tofu are inexpensive and are a great substitution. Instead of having meat as the main course, it can be enjoyed as a side dish. Individually Quick Frozen (IQF) meat is also much cheaper than fresh because as the name suggests, it is frozen. The package will state the meat is IQF meaning it did not sit around the store and was frozen when it got close to its "use by" date. So not only is the meat fresh tasting, but tasty too. I get mine from Trader Joe's and defrost as needed. Next time your at the grocery store, check out your frozen meat section.
Using a half and half approach also saves a bundle. When cooking meatballs, hamburgers, chili or spaghetti sauce, use half a pound of meat for every half a pound of shredded veggies. Carrots, zucchini and bell pepper add lots of flavor and your kids won't realize they are eating veggies!
I have no interest in completely giving up meat, just shrinking my grocery bill and my waistline. If you have other tips on saving money on meat, share them with us.