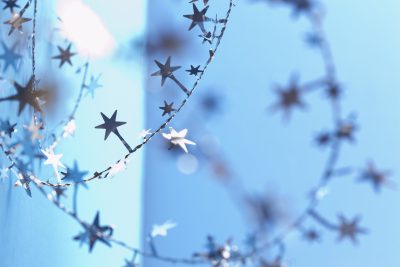 Each and every December my Mom cautioned me, my sisters, and brothers in her most sad, prudent voice. "This Christmas, there are not going to be as many presents as last year."
Perhaps she was worried about spending too much money on presents. Perhaps she was trying to keep our expectations in check. Or maybe she was just tired of shopping. If you are in the same boat as my Mom, here are my top five solutions to cope.
1. Hold a White Elephant Gift Exchange instead of everyone trading gifts with everyone else. Setting the gift target low, like $10 each, emphasizes the comical nature of the exchange and depressurizes familial relationships.
How it works: everyone buys a gift that fits with the target spending amount, in this case $10. The gift should be appropriate for anyone in the family. Each person brings their gift wrapped and completely unmarked to the exchange, then puts their name into a hat. The first person whose name is drawn gets first pick of the presents. The second name drawn can either "steal" the opened present or unwrap a new one. The third person can "steal" either of the opened gifts or try their luck with a wrapped one. If your gift is stolen, you can't steal it back, but you can steal another gift that has been opened or you can open a new gift.
Tip: I find the most fun exchanges are when participants encourage stealing. But keep in mind a gift can only be stolen twice. The third owner is the final owner.
The stealing and unwrapping continues until everyone's name has been drawn. That's when the first person who went (who never got a chance to steal) may make one last steal, which sets off a chain reaction of other steals. Or, they can chose to keep their current gift.
Tip: Couples or roommates can work together to secure coveted presents for the other.
In a White Elephant Gift Exchange, used, er, vintage gifts are totally acceptable as long as they are clean and in working condition. Any items that need batteries should have a fresh set in them.
Tip: This kind of gift exchange works best for groups of adults.
2. Forgo gifts for a day of volunteering or a family outing. Spending time with my family grows more important than receiving a physical gift each year. This Christmas, we are going ice skating together! Helping those less fortunate is a great way to remember just how fortunate you are.
Tip: If your family is immobile or spread across the country, a good alternative is for each person to make a charitable contribution in the family's name. Share the charities everyone donated to, but not the amount.
3. Conduct an anonymous Secret Santa Exchange. A few weeks before the holiday, participating family members take turns drawing one name from a hat. If you draw your name or that of your partner/spouse, put it back and draw again. Buy a gift only for the person whose name you draw. Decide as a group what the spending limit will be, generally $10-$75.
Bring your gift wrapped and addressed to the recipient. But do not say who it is from. Secret Santa Exchanges are anonymous, though it often comes out who drew whom.
4. Go homemade. We've got lots of ideas for thoughtful homemade gifts. Homemade gifts are a great money saver, though they may require just as much time as hitting the malls.
5. Give the gift of time. Instead of spending cash, spend your time. Options include babysitting, yard work, running errands, picking up carpool shifts, dropping in with dinner, and household cleaning. Who says no to help?
How are you saving money this holiday season?