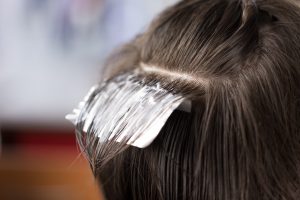 The season is changing and so will many women's hair color, but the cost doesn't have to make you want to pull your locks out. Many of us are heading back to school or the office and are craving a fresh look. Here are some tips for inexpensive hair color and care. A previous post covered how to get a cheap hair cut.
Highlights – I speak from personal experience: don't do this at home or risk looking like a skunk. Instead, have a friend recommend a professional and get highlights done at a salon. For touch ups, you can use a similar color from the drugstore and do it at home. You can also try the natural method and spritz your hair with lemon juice so your hair naturally lightens with the help of the sun.
All-over hair color – Skip the salon color and do-it-yourself. There are some great drugstore hair color brands that will run you $10 to $15 compared to $40 to $45 plus tip at a salon. When you do your own hair color, save a bit of the color in a bottle for touch-ups and when your roots start growing out, dip a clean mascara wand into the bottle and brush the dye onto your roots. Don't forget to rub petroleum jelly on your forehead and ears before you begin the coloring process to avoid stained skin. If you prefer to get your hair colored at a salon, make friends with your stylist and have them save you a bit of color for touch ups. And if you want to lighten your hair for just a couple bucks, here are detailed instructions for dyeing your hair with hydrogen peroxide.
Remember that hair color is an investment so avoid over washing your hair if you want to protect and keep it vibrant. To clean your tresses and maintain the color, use a mild shampoo intended for color-treated hair. Avoid blow-drying your hair too much, as it damages the hair and your color may turn brassy. Find more tips for preserving hair color here. The best advice for avoiding the cost and commitment of color is to go natural.