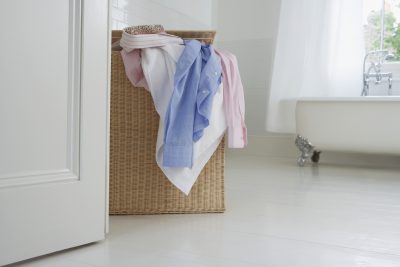 Laundry is inevitable, but wasting money isn't. A couple years ago, I realized I was spending too much money getting my clothes to smell like a summer breeze. Since then, I have completely changed my habits in the laundry room. Here are five tips sure to save you cash.
Use cold water – There is no need to pay for heating water when you don't need it. I used to love washing in steaming hot water because I thought it was the only way to get rid of germs, but it is not. Use cold or warm water depending on what you're washing. Aside from saving on heating water, I find my jeans do not fade as much, which cuts down on my shopping expenses.
Forget the fancy laundry products – Multi-tasking detergents with additives such as bleach and stain removers are more expensive than plain detergent. Instead, use natural cleaners that you may already have in your arsenal like baking soda to whiten, borax to remove stains and vinegar to rinse your clothes. Natural cleaners and a little elbow grease can work wonders and are much less expensive than fancy laundry products. When adding soap, don't follow the manufacturer's instructions; instead experiment to find the right amount for your clothes. Often, the amount of soap you need is less than directed. Making your own soap is also inexpensive but time consuming. Savings: cost of fabric softener, stain remover and bleach approximately $3 to $4 per bottle.
Stop using dryer sheets. Every time you toss a dryer sheet in the trash it is like throwing money away. Instead, consider going without or use dryer balls. I recently bought a set of dryer balls for $4 and like the results.
Do full loads, back-to-back – Doing laundry throughout the week is a bad idea if you want to reduce your electricity bill. When you wash and dry all your clothes in one day you are using less energy to heat up the dryer because it is warm from the previous load. Also, make sure you use the right settings for your washing machine to avoid using extra water or time for lightly soiled clothes.
Ditch the dryer – Whenever possible use a clothesline to save on your utility bills. If you do not have room outside, try an indoor drying rack or use extra hangers. If you want your clothes soft, toss them in the dryer for 5 minutes after taking them off the drying rack. Clothes dry incredibly fast outside mid-day.
Wear clothes more often – The most effective way to save money on laundry is to just do less of it. Wearing your clothes more than once before tossing them in the hamper is the first step. Jackets and sweaters can be worn more than once. I won't tell you how long I wear my jeans before tossing them in the hamper – that's my dirty little secret – but I can tell you that washing clothes less often cuts down on doing laundry and its cost and extends the life of your clothes.
Now that you've read my dirty laundry secrets, share yours! What tricks do you use in the laundry room to save money?