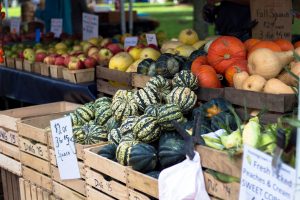 Farmers markets are a good source for fresh produce and quality homemade goods but can be pretty expensive if you don't know how to score a deal.  Before I started to frequent them, I imagined farmers market were expensive because the produce is organic, but with a couple tricks I have been able to save money and so can you. Here's what to do.
Meet the farmers. It has been my experience that this is the single best thing you can do at the farmers market if you want to save money. Instead of rushing through the market, take your time to do a meet and greet. Talk to the farmers and those selling their produce. Many times the farmers themselves will not be selling the produce so talking to whomever is in charge is best. One of the best ways to strike up a conversation is to ask questions about their produce and where they grown it. Becoming friends with them may provide you with discounts but it also allows you to learn where your food is coming from. This is also good if you want to know what the farmers will be selling in the weeks ahead. By becoming friends, they know you'll become a loyal customer and will buy from them as much as possible.
Early bird doesn't always get the worm. If you are looking for quality and a plentiful selection, you must hit the farmers market early in the day, but be warned that quality comes with a price. If bargains are what you want, then the best time to head to the market is later in the day. The selection will be limited but you'll find the lowest prices during this time as farmers are trying to sell all of their merchandise so they can head home. If you are looking for something in particular, get there early and shop around.
Know what's in season. When I first started going to farmers markets I made a big mistake that cost me greatly. I was paying $10 for out of season strawberries. They were delicious, but not worth all that money. Once I figured out I was overpaying, I vowed to learn in season fruits and vegetables to reduce my costs. I now pay $5 at most for strawberries when they are in season.
Haggle. Many vendors are open to negotiation, but you have to be respectful if you are going to take that approach. Not only is this their livelihood and they have to make a living, but it's also up to their discretion if they want to give you a deal. I once asked for a deal when purchasing fruit from a farmer and I got it. Another customer overheard and demanded the same deal. She was only buying three apples while I bought an array of fruits for a salad from the farmer. He explained to her that he couldn't give her a discount when she was buying so little and told her that if she bought more he would gladly extend the offer to her. She refused, left the apples and stormed off. In short, if you want a deal, politeness will get you further.
Do you have more tips on saving money at the farmers market?