I recently changed my living situation and realized it was a great opportunity to price compare TV options and save money on my cable bill. Before the move, I was spending $120 for Google Fiber, which included 200+ channels, minus premium. Most of the shows I watch can be seen on their respective network's website for free, and I never watch live TV unless it is a sporting event.  Could I pull it off? Could I cancel cable and watch online for cheap TV? What about Hulu Plus, Netflix and an HD antenna? I went to work collecting pricing and the result was incredible.
How I saved $112 a month on my cable bill

I made a list of the options I was interested in, from DirecTV's satellite, to traditional cable and Internet streaming. I then checked online (and in some cases called) for pricing packages in my viewing area. Here were my results: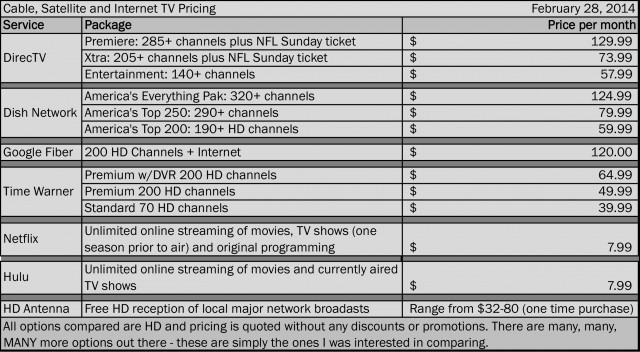 It was pretty clear to me very quickly that for my needs, internet streaming was the way to go. I don't need On Demand viewing, and rarely watch live TV, so traditional cable or satellite options with hundreds of channels would be wasted on me. I realized that if I cancelled cable and subscribed to Netflix and Hulu Plus, I could easily watch my favorite shows and movies – and discover new ones – for only $16 a month. Normally, I would have to add the cost of an internet connection to that price, but since I live in Kansas City, I can get a free basic connection from Google Fiber. And, my awesome sister and bro-in-law let me mooch off of their Hulu Plus account, so I only pay for Netflix. I'm watching TV for $8 a month, folks.
I will be giving up watching live sports with this choice, but I can always head to the local sports bar or a friend's house if the game is super important. Now baseball season IS around the corner, so I am deciding if I want to invest in MLB.tv for $130 a year – so I can watch any game –  or buy an HD antenna for $60 and just watch the Royals.
Now, my decision isn't for everyone – read why Julia gave up Netflix and what she's watching. Every household is different in what they watch, how they want to watch it and what they are willing to spend. Take some time to weigh your TV options, and you too can save some cash without missing anything.
So there you have it. By doing a little cable TV price comparison, I was able to save $112 per month. That's $1,344 a year, for those of you who are paying attention.
How do you watch TV, sports and movies at home?