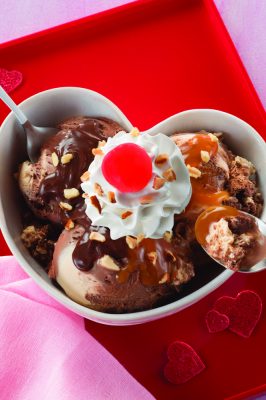 Free Date Night Ice Cream Sample at Baskin-Robbins on Sunday (02/02) – Swing by your local participating Baskin-Robbins on Sunday (02/02) between 3 and 7 pm and get a free 1 oz sample of Date Night ice cream.
Free Chameleon Cold Brew Coffee & 3D Energy Drink at Jewel-Osco – Load offers for free Chameleon Cold Brew Coffee and 3D Energy Drink to your Jewel-Osco account. Expires 02/03.
Free Lifeway Plantiful Probiotic Drink at Shaws & Star Markets – Load an offer for a free Lifeway Plantiful Probiotic Drink to your Shaws or Star Market account. Expires 02/03.
Free Bush's Beans Savory Beans Product at Stop & Shop – Load an offer for a free Bush's Beans Savory Beans Product to . your Stop & Shop account. Must be loaded today (Saturday) but can be redeemed until 02/13.
Free Wings from Buffalo Wild Wings(conditional)- Get a free order of wings on Feb. 17th if the Super Bowl goes into overtime! Click here for the details.
Free Pizza from DIGIORNO (conditional) – Get a free pizza from Digiono if the Super Bowl's gamescore is 3-14 or 14-3! Click here for more info.
Free Sabrina Hosiery Items-Sign up as a Sabrina Hosierty Ambassador and you could receive freebies from the company! Fill in the form at the bottom of the page to join the program, for a limited time only. 
Free DIY February Workshops at Home Depot-There are some great free workshops this month at Home Depot, including Heart String Art, Interior Painting & Drywall Repair, Spice Rack, and Installing Tile Backsplash! Click here for all the details. 
Free 5 lbs Shredding at Office Depot or Office Max–Click here to download the app and look in "Deals & Coupons" for the 5lbs Free Shredding Offer. Take it in store to redeem!
Free Hockey Day on Feb. 22nd-Kids age 4 to 9 can try Hockey for free on February 22nd. There are 350 locations participating, so it should be easy to bring your kiddos to a rink. Click here to get all the details. 
Free Sample of Persil ProClean Discs-Stock is limited so don't wait. Click here to request your free sample of Persil ProClean Discs (not everyone will qualify for this freebie). If the offer isn't available to you now, try back each month.