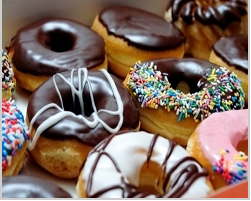 Get a $25 gift card on Restaurant.com for just $3 as part of a HUGE Cyber Monday
 sale. Use coupon code CYBER. Ends Dec. 1 at 11:59 p.m. PST. A $25 gift card is usually $10 – so this is 70% off!
Before you buy, click through the link and search for restaurants in your zip code or city (or a city you are traveling to!). You want to know what restaurants you might use your 70% off gift certificate at before you buy.
I've used Restaurant.com's gift cards for years now. There are a few rules, but if you know them up front, they are easy to stick to.
Look for a required minimum spend to use your $25 gift card. It's usually $35 or more. So if you buy $35 of food, you'll pay $3 for the first $25 (the gift card), and you'll pay $10 for the difference between $25 and $35. All told, you pay $13 for a $35 meal. That's more than 50% off!!!!
Tax and tip do not count towards the qualifying amount. You pay for those babies in full. Alcohol sometimes can count towards the total, but I wouldn't count on it.
Tell your server before you order that you'd like to use your Restaurant.com gift certificate. Just in case there's any funny business, you want to know before you order.