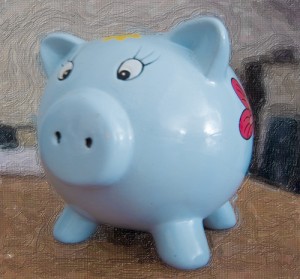 Coming up with resolutions for the new year was difficult. I easily added the No. 1 resolution to lose weight onto my list, but when it came time to think of my financial future, I was paralyzed. While I've always saved my pennies, this year is different. In the spring I'll be graduating into a less than idea economy and assuming the adult reality of earning, managing, and spending money wisely. I would be lying if I said I was not anxious about my future.
My three financial goals, which may be similar to yours, are simple so I can stick to them.
3. Save more money — I've been putting aside 20 percent of all my earnings and will start putting away 25 percent this year. To meet my goal, I've set up my bank account to deduct 25 percent automatically from my paychecks and transfer the money to my savings account. Since I'll be saving more, I'll be cutting down on my entertainment budget. There will be less movie nights and dinners out.
2. Stop using plastic — A while back I wrote about an addiction that cost me a lot of money. I was using my credit card to pay for coffee when I didn't have cash on me. Since then, I've stopped using it to pay for food or coffee, but there are still times when I pull the darn thing out. My credit card debt is low because my credit card company has given me a major incentive to pay off my bill in full every month, a high APR. I've actually thought of canceling the card and opening up another with a lower APR, but this would be a big mistake because I'm trying to build my credit and my student credit card has a long history. Instead, I'm giving the credit card company a call to ask them to lower my APR. I will also put it away this year because I'll be tempted to charge movie tickets. Bargain Babe went without a credit card for a month, which drastically changed her mind about using cash.
1. Pay off debt — I want to start living life debt-free and paying off my hefty student loan on time is my main priority. I did not receive financial aid so all expenses where out of pocket. Aside from the 25 percent I'll be saving, my plan is to take 10 percent of my income each month to pay down my loan. The 2 percent interest rate is fixed, but if I default it will balloon up. I can afford to save money instead of putting it towards my loan as long as I pay the minimum on time. I've set up my checking account to automatically pay my bill each month, leaving no chance for me to waste the money on frivolous things or default.