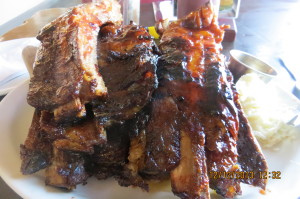 Each year I am impressed and amazed at the sheer number of
birthday freebies
that our longtime reader, The Unethical Man, manages to redeem. This year's total is 43 offers amounting to $443.20 in birthday freebies! He shared this report of his freebie adventures. (Read his birthday report from 2011, 
2012
, and 
2013
.)
Another year and another December full of birthday freebies.  This time, I managed to snap a few pics since I have been told that a picture is worth a thousand words.
With that said, here is my report.
                                                            (2013)
TOTAL EMAIL OFFERS RECEIVED
                                                    CHRONOLOGICAL ORDER
11/13/13          CAESAR'S ENTERTAINMENT – FREE DRINK
11/18/13          SILVERTON CASINO – 1000PTS IF I PLAY ON MY B-DAY
11/27/13          LANDRY'S SELECT CLUB – $25 BIRTHDAY REWARD
11/29/13          MEN'S WEARHOUSE – $25 OFF NEXT $100 PURCHASE
12/01/13          RED ROBIN – FREE BIRTHDAY BURGER
12/01/13          SPORTS CHALET – 3x SHOPPING POINTS
12/02/13          BENIHANA – $30 BIRTHDAY CERTIFICATE
12/02/13          WOOD RANCH BBQ & GRILL – FREE DESSERT
12/03/13          BOB'S BIG BOY – FREE HOT FUDGE ICE CREAM DESSERT
12/04/13          CARROW'S – FREE DESSERT
12/04/13          COCO'S – FREE SLICE OF PIE
12/05/13          DAVE & BUSTERS – $10 FREE GAME PLAY W/ $10 PURCHASE
12/08/13          RUBIOS – FREE MEAL UP TO $7
12/10/13          ACAPULCO – FREE 2 ITEM COMBO ENTRÉE (MAX VALUE $10.99)
12/10/13          EL TORITO – FREE 2 ITEM COMBO ENTRÉE (MAX VALUE $10.99)
12/10/13          FAMOUS DAVE'S – BUY ONE ENTRÉE, GET ONE ½ OFF
12/11/13          SHAKEY'S PIZZA – FREE BUNCH A LUNCH W/ DRINK PURCHASE
12/11/13          CINNABON – FREE MOCHALATTA CHILL
12/11/13          MACARONI GRILL – FREE DESSERT
12/11/13          SBARRO – FREE SLICE OF PIZZA W/ BEVERAGE PURCHASE
12/11/13          ROSIE'S BBQ – FREE ENTRÉE UP TO $21.99
12/11/13          BLACK ANGUS – FREE COWBOY COOKIE W/ ENTRÉ PURCHASE
12/11/13          SCHLOTZSKY'S – FREE SMALL SANDWICH OR 8" PIZZA
12/11/13          MIMI'S CAFÉ – FREE DESSERT
12/11/13          WINGSTOP – FREE LARGE SEASONED FRIES
12/11/13          FUDDRUCKERS – BOGO 1/3 BURGER
12/11/13          COLDSTONE – BOGO CREATION
12/11/13          IHOP – FREE ROOTY TOOTY FRESH N FRUITY
12/11/13          CHEVY'S FRESH MEX – FREE ENTRÉE UP TO $12
12/11/13          ARBY'S – FREE 12OZ SHAKE W/ MENU PURCHASE
12/11/13          BJ'S BREWHOUSE – FREE PIZOOKIE DESSERT
12/11/13          BEN & JERRY'S – FREE SCOOP ICE CREAM
12/11/13          ANTIE ANNIE'S – BOGO PRETZEL
12/11/13          TOGO'S – FREE 6" SANDWICH W/ 20OZ DRINK PURCHASE
12/11/13          SIZZLER – $5 OFF ENTRÉE PURCHASE
12/11/13          DEL TACO – FREE PREMIUM SHAKE
12/11/13          RUBY TUESDAY – FREE GOURMET CUPCAKE
12/11/13          MARIE CALLENDARS – $5 OFF ENTRÉE & FREE SLICE OF PIE
12/13/13          RED LOBSTER – $5 OFF ANY TWO ADULT DINNER ENTREES
12/13/13          BASKIN ROBBINS – FREE SCOOP ICE CREAM
12/16/13          MEDIEVAL TIMES – BOGO ADULT PASS
12/16/13          PANERA BREAD – FREE BIRTHDAY PASTRY
12/17/13          SPRINKLES – FREE BIRTHDAY CUPCAKE
12/18/13          JAMBA JUICE – 16OZ SMOOTHIE FOR $2
12/18/13          AMC – FREE LARGE FOUNTAIN DRINK
12/18/13          APPLEBEE'S – FREE DESSERT
12/18/13          TGIF – FREE DESSERT
1/3/14              ACAPULCO RESTAURANT – BEEF TACOS
1/4/14             VARIOUS TREATS FROM FRIENDS
1/15/14           ROSIE'S BBQ
12/04/13                 WOOD RANCH BBQ & GRILL – OREO COOKIE CRUNCH $6.95
12/04/13                 LANDRY'S SELECT CLUB – BEEF & PORK RIB COMBO $24.99
    I first went to Wood Ranch and the Oreo cookie crunch dessert was insanely good.  Nice portion.  I requested no hot fudge on mine.  Afterwards, I walked across the parking lot to the Claim Jumper's which is part of the Landry Select Club.  With a $25 birthday reward burning a hole in my membership card, I zeroed in on the beef and pork combo platter.  By my server's recommendation, I ordered the 3 cheese garlic potatoes, and they were very good.  Remarkably, I managed to polish off my entire plate.  I asked for a take box container so I could share the beef rib bones with my pooch.  I did leave a tip at both restaurants.
12/11/13                 BOB'S BIG BOY – HOT FUDGE ICE CREAM DESSERT $4.99
12/11/13                 ACAPULCO – 2 ITEM COMBO ENTRÉE $10.99
    Once again, I stopped in for dessert first, but it was mainly due to geography.  The Bob's Big Boy was closer and more convenient for me to stop there first before going to Acapulcos for lunch.  The dessert was very good.  I requested no hot fudge or the cherry on top.  A couple of blocks further, I was pulling into the parking lot of Acapulcos.  I ordered their shredded beef taco and enchilada.  I also ate all the chips and salsa I could handle.  Yes, I left a tip at both places.
12/12/13                 ROSIE'S BBQ – FULL SLAB BEEF RIBS $21.99
12/12/13                 BEN & JERRY'S – SINGLE SCOOP COOKIES N' CREAM $4.29
12/12/13                 CINNABON – MOCHALATTA CHILL $4.39
12/12/13                 WINGSTOP – LARGE SEASONED FRIES $3.19
    On this day, I decided to redeem my free birthday offer from my favorite BBQ restaurant – Rosies in Northridge.  I hadn't been there in a long time, and I knew that I wanted their full slab of beef ribs.  It just so happened to be priced at the maximum value of my offer, so my meal came out to be free.  There was so much food that I could only finish half of the ribs and was forced to take home the other half for later.  Of course, I left an appropriate tip for my server who did a very good job.  She brought be everything I requested from wet naps, to take home boxes and an extra container of BBQ sauce to go.
    After Rosies, I drove over to the Northridge mall and redeemed my free scoop of ice cream from Ben & Jerry's.  Their ice cream is very good, but charging customers $4.29 for a single scoop of ice cream is ridiculous.  Who, in their right mind, is going to pay that much for only a single scoop of ice cream?  On any given day, you can get a half gallon of ice cream for less than $3 at most supermarkets.
     Cinnabon was also located within the Northridge mall, so I stopped by there to try their Mochalatta Chill.  I am not a coffee drinker, but thought with all the whipped cream and hot fudge, it would taste okay.  Let's just say it wasn't my cup of tea, and I wound up tossing it after taking a sip.
On my way back home, I stopped at a Wing Stop in Northridge to redeem my free large seasoned fries.  Good fries overall.  The ones at the bottom do tend to get a bit overly greasy.
12/14/13                 IHOP – CHEESEBURGER + FRIES $7.69
12/14/13                 BASKIN ROBBINS – 3OZ VANILLA SOFT SERVE $1.79
12/14/13                 DEL TACO – PREMIUM STRAWBERRY SHAKE $2.90
    This next run to IHOP is really for their Rooty Tooty Fresh N' Fruity plate.  But in the small print, it does say or substitute for another entree of equal or lesser value, so I got the cheeseburger combo.  As usual, I just had ice water with my meal, so my bill was completely covered.  Yes, I left a tip.
    Just one block over is a little strip mall where both Baskin Robbins and Del Taco are located.  So I popped in for my birthday freebies.
12/15/13                 BASKIN ROBBINS – MINT N' CHIP $2.69
12/15/13                 RED ROBIN – FREE BIRTHDAY BURGER $9.99
12/15/13                 CINNABON – MOCHALATTA CHILL $4.39
12/15/13                 DEL TACO – PREMIUM STRAWBERRY SHAKE $2.90
    On this day, I met up with my friend, Mary, for lunch after getting off of work.  On the way to Red Robin, I spotted a Baskin Robbins, so I asked her to stop and I got another birthday scoop.  They have excellent mint n' chip ice cream.
    At Red Robin, I whipped out my Red Royalty card and ordered the bacon cheeseburger.  My birthday burger reward was already preloaded on the card, so my side of the bill came out to $0.00!  Major score.  The burger was very good, and they make excellent steak fries which are bottomless.  I only got one reorder of fries this time.  Yes, a tip was left for our excellent and friendly server.
    The Red Robin was located in the Cerritos mall, so we walked to the food court area and stopped at a Cinnabon, and I got another free mochalatta chill and gave it to Mary who loves coffee.  On the way home, I stopped at a Del Taco and got another strawberry shake.
12/16/13                 BASKIN ROBBINS – MINT N' CHIP $2.69 (KID'S SIZE)
12/16/13                 EL TORITO – #1 COMBO $10.99 ($1 TIP)
    On this night, I decided to hit up my local El Toritos restaurant in Burbank for dinner.  Along the route, I stopped at a Baskin Robbins for another scoop of mint n' chip ice cream.  What I thought was interesting was that the scoop size at each location varied according to who is doing the scooping.  At this Sun Valley location, the attendant gave me the tiniest scoop out of the bunch.  It looked like half a scoop.  Like a kid's scoop.  It was free, so I wasn't about to argue about the scoop size.
At El Toritos, I order the shredded beef taco with cheese enchilada.  It came with rice and refried beans.  As usual, my bill came to $0.00, so I just left my server an appropriate tip.
12/17/13                 BENIHANA – ROCKY'S CHOICE $26.25 ($4.73 TIP)
12/17/13                 WINGSTOP – LARGE SEASONED FRIES $3.39
12/17/13                 BASKIN ROBBINS – MINT N' CHIP $2.49
    Benihana made a change in certificate redemption policy this year.  Before, we could come in anytime during the weekday, but this year, we could only come during dinner hours.  Don't exactly know why, but you just have to go along with it.  The closest location to me is in Encino.  The one thing I hate about that location is the lack of non-valet parking.  I absolutely do not like valet parking, not for the reason of giving the dude a tip, but because I don't like the idea of handing over my car key and my car to a complete stranger.  I'll park my car myself thank you very much.  And on busy Ventura Blvd, there's only metered parking, and I dislike having to use those too.  Luckily for me, there's a little side street about a half block west of the restaurant where there's a little strip of non-metered parking available.  The big problem with that is that all of the spots are usually taken.  But I was very lucky to get there when someone was pulling out.  Score!
    For dinner, I ordered the Rocky Choice which is grilled chicken and beef with steamed rice.  It also came with sauteed zucchini, mushrooms, grilled shrimp, grilled onions, miso soup, salad and ice cream for dessert.  This year, I was seated with another group of five family members.  They were talking amongst themselves, so I just listened to my ipod and watched the teppan show unfold.  Another change this year is that no matter the size of the party, the certificate said that an 18% gratuity would automatically be added to my final bill.  So even though my meal was fully covered by the birthday certificate, I still wound up paying $4.73 for the mandatory tip.  So, technically, this wasn't a total freebie, but to get a very nice meal for under $5 is still so very worth taking advantage of this offer.
    On the way back home, I drove to the Wing Stop location in Van Nuys and picked up another large order of seasoned fries.  And within that same strip mall was a Baskin Robbins, so I scored another unexpected scoop of ice cream there as well.
12/18/13                 CATALINA EXPRESS – ROUND TRIP TO CATALINA $72.50
12/18/13                 LLOYD'S OF AVALON – FREE ICE CREAM SCOOP $2.95
12/18/13                 GOLF GARDEN'S MINI GOLF – FREE GAME $9
12/18/13                 THREE PALMS AVALON ARCADE – FREE GAME OF BOWLING $5
12/18/13                 AURORA HOTEL & SPA – FREE MUSIC CD "HOLLYWOOD'S MAGICAL ISLAND – CATALINA" $21.98
12/18/13                 BUFFALO NICKEL RESTAURANT – FREE BIRTHDAY MEAL $10.99 ESTIMATED VALUE
  The big day was finally upon me.  December 18th.  This is my actual birthday.  The big 47.  And this would turn out to be an epic day for sure because I was planning to spend the entire day on Catalina Island.;  It really pays to plan out your day in advance and do your homework. My special day turned out well because of it.  My alarm set to jar me awake at 6:30am sharp! Turns out, it wasn't necessary. I woke myself up around 5:30amwhich was a good thing because with the extra time, I was able to eat breakfast.  I was out of the house at7:15am.
My friend, Mary, lives way out in Bellflower, and I had no idea how the morning traffic would be, and one thing was for certain, we could not miss our 10am ferry. Surprisingly, I encountered only mild traffic on the 5, but once I passed downtown, it was essentially smooth sailing. The northbound side of the 5 was grid locked. I got to Mary's house in only about 30-minutes. And we got to Catalina Express around 8:20am. We made such good time, that I even suggested to Mary that we find a place to get coffee and doughnuts. There was a coffee shop inside the terminal, so we just went inside the parking structure and checked in. We used that time to pour over some pamphlets which contained maps and helpful tips on maximizing one's stay on the island. This was great because I was planning on visiting the Conservancy where they were giving out free Island Trails Maps for birthday people. But now, I didn't have to.
The boat ride out was very smooth. The Catalina Island fleet uses state-of-the-art dual hulled jet-powered catamarans to knife it's way across the water with blistering speed. Mary and I didn't sit with each other for this leg. I wanted to be topside so I could see us leaving the harbor and take pictures. Mary wanted to stay inside because she felt it would be too cold and windy outside. She also wanted to take a nap.  I stayed in my seat for the first 15-min of the ride, then I got up to take some photos and noticed a back staircase that led to the lower stern section of the boat where they tied up the bikes. The ship's hull provided a perfect windshield and it was surprisingly calm and much warmer than being top side. I basically stood for the rest of the ride. I watched Long Beach get smaller and smaller until there was no sign of anything manmade. Not even other ships or oil rigs. The twin jet wash coming from the engines was impressive and mesmerizing. At one point, the sun broke through the clouds and the angle of the boat's heading created a rainbow from the jet wash's spray. I took a couple of videos of this, but I don't know how it turned out yet. As we approaches Avalon, a passenger was pointing to a pod of dolphins off the starboard side. I don't know if they were feeding or just heading somewhere, but it was pretty cool. I tried to film them, but when we got close, they all just seemed to disappear. I guess we spooked them rather than intrigued them.
Our golf cart rental was for 11am, but we didn't exit the boat until about 11:10am. By the time we got to the office, it was 11:15am. The girl explained their rules and policies to me and provided me with a designated trail map for the city. Where we were allowed to go and where we were not allowed to go. She also started the time for us at 11:25am, so we had until 2:25pm to return it.
We were assigned golf cart #87. It looks like it is electrically powered, but it operated on gas. I don't know the tank capacity or the kind of mileage it gets, but she said it was more than plenty for our planned 3hr operation. The cart's top speed was only about 15mph, so there was no danger in breaking the posted 20mph speed limit. It was very easy to operate. It had a gas peddle and a brake pedal only. If you needed to stop and park, there was a little parking brake on the upper left hand corner of the brake pedal. To disengage the parking brake, you just needed to step on the gas.  Easy peezy Japaneezy.  If I needed to back up and go in reverse, I just needed to flip a switch. Again, very simple. Operating a golf cart is not exactly like operating an ATV. It did take a few minutes to get the hang of how sensitive the acceleration was. It also took Mary a little while to figure out how to read the map and be my navigator. If we were allowed to just go anywhere that had a paved road willy-nilly style, the map would not be as important to us. But there were plenty of streets that lead to private driveways or residential neighborhoods where rental carts were not allowed, and not all of them were clearly marked, so the map was a necessary tool.
I resisted the temptation to stop anywhere and take pictures the first time around. According to the girl, it only takes about an hour to cover the recommended trail once. With 3hrs in our hip pockets, we knew we could have at least 2 shots around the course. Up until then, my time on Catalina had been limited to the walking paths along the beach. It was really cool to drive inland and explore the island from a completely different perspective. We were hoping to see some of the wild bison roaming the island, but they are kept well away from the city. I think the only way to see them is to get on an all-day guided eco-tour by gas jeep.
After working out the initial kinks with navigating through the streets of Avalon, we began our round 2 assault on the island. This time, I stopped a few times so we could take a few extra minutes to take some photos and take in the view. Midway through the course, I needed to take a restroom break. The place we found had some picnic tables, so we decided to take our break there and have lunch. I think it was smart to bring our own food with us. The prices at the Avalon restaurants are extremely pricey. My lunch consisted of the other half of the meatball marinara sandwich I bought at Subway and a bag of Cheetos. I brought 4 bottled waters with me and two Capri Sun juice packs. Mary brought homemade roast beef sandwiches which looked really good. She also brought an apple and a banana. We finished lunch at 2pm which left us just 25-minutes to finish the rest of the course and return the cart on time. Not only did we finish the course, but we had about 10-minutes to spare. It was a good rush and a very good value for %$80.
Next up for us was a game of mini golf at the Golf Gardens Mini Golf. But along the way there, I stopped inside Lloyd's of Avalon to claim my free birthday scoop. It was a fabulous looking and smelling candy and confection store complete with a real taffy pulling machine. Watching it was mesmerizing. The ice cream was of good quality like Baskin Robbins. I looked at the menu board and a single scoop would've cost me $2.95.  The price for a single game of golf was $9 for adults. Mary paid for her game and publicly announced in front of the attendant and other visitors that she was not only going to challenge me, but that she was going to kick my birthday ass. This drew ooohs and jeers from the crowd. The match was on like Donkey Kong. But first, she had to use the restroom, so I had time to finish my cone in peace.
The golf course was very nice. Nice design and lay out. I like the fact that each one seemed to feature an element I had not seen before. Many of them had a "sweet target" that would've allowed you an excellent chance to make par for the hole or a birdie. There was one course that was a par 6 – image 43. I got in a couple of excellent strokes and managed to get a birdie on that hole. Mary was not so lucky and scored a 12. I had some failed moments on the course as well. One hole took me an embarrassing 10 strokes to complete. We even had a couple of guys playing behind us watching our match and providing some color commentary. I offered to let them play through but they wanted to watch us play so they could learn from our mistakes and get in some good laughs. In the end, I won by 11 strokes, and Mary had to own up to our bet and strut around and squawk like a chicken. 
j/k
After that, we went to Three Palm Avalon Arcade where I got my free game of bowling. The value of which was $5. It's not a full-size lane. Maybe 30ft at most. It's a coin-operated game and it's pretty sophisticated. The bowling balls were about the third of the size of a regulation ball, so there were no need for any holes. The pins were attached by strings at the top which is how the machine reset them and cleared the path for the spare shots. Mary decided not to play against me on this one stating that her bowling balls are real and have holes in them. I got two strikes in a row to start off the game. And I even made a very tough 1 – 10 split. I left my share of open frames and one gutter ball. My final score was 137. I was happy with that, and it was a lot of fun.
Next, we decided to walk over to the famous casino/theatre building and take the 30-minute tour. But what we were not expecting is that they only held two tours a day, and the last one was at 3pm!  It never occurred to me that they wouldn't be doing tours all day long. So I missed out on this $10 freebie. First mistake of the day.
The next freebie on my list was to get a free music CD of a documentary called Hollywood's Magical Island – Catalina. To get this freebie, I had to locate the Aurora Hotel & Spa. Mary and I went up the wrong street initially. Then I asked someone at another hotel is she could help us. Turns out we needed to go two streets over. In our defense, the street was not clearly marked at the main junction point. The street was tough to climb due to the steepness of the incline, and it was actually on the golf cart route. Had I known this, I would've parked the cart, walked in and got the CD. Of course hindsight is always 20/20. The building's exterior was old and faded. Mary didn't follow me in choosing to wait for me about 100ft across the street and down a ways. The hotel's lobby was spectacular looking. It almost felt like I just walked into someone's living room. No one was there, so I let out a little, "Hello." Moments later a real nice-looking woman came out from the back office. She went to check if they had any more of the CDs left, and she did. She wished me a happy birthday and when I told her I am a model 1966, she said, "So I am." She looked amazing and so not her age. I thanked her for the CD and left.
At this time, it was still only around 4:30pm. We still had plenty of time before going to eat dinner at Buffalo Nickel. With all of the birthday freebies successfully acquired, we killed a little time by doing some window shopping in some gift shops. Mary saw the same CD I just got for free in one store and the price tag was $21.98! I thought the CD was maybe only worth about $5, so I was shocked at the price. Talk about a score. I haven't listened to it yet in case you were wondering.  Hopefully, it is good.  That would be icing on the cake.
Night time fell and the Christmas lights strung along the beach were glowing bright and very festive. I even saw the same big Christmas tree from 2yrs ago. I didn't touch it or get up close to it to know if it was real or fake, but it looked nice. We had planned to eat at the restaurant around 6pm, but in order to get there, we had to call the restaurant from one of two pick up locations and arrange for a shuttle driver to come get us. It got a bit colder at night, but we were determined to tough it out. We found a park bench to take a load off and I broke out a deck of cards, and we played Kings in the Corner. After playing one game, we decided to call the restaurant for that ride. It was considerably earlier than what we were planning, but it turned out okay because it took the guy around 20-minutes to come get us after dropping off whoever he was dropping off. By the time we got to the restaurant, it was 6pm. Perfect timing. The place seemed like a Mexican style restaurant to me, but they also served all-American dishes like chicken, steaks, burgers and fries. Oh, by the way. I should've mentioned that when I got my boarding passes at Catalina Express, I was handed a Happy Birthday ribbon which clearly identified me as a birthday visitor. Some of them asked for my I.D., others did not. When our server came to our table and handed us the menus, he also brought the special birthday menu which gave me the choice from about 20 different entrees. There were no prices on the menu, so I can only estimate the value of my free meal. I ordered a beef burrito with red sauce. It was a very generous proportion. From what I was able to taste, it was very good.  I did get a little motion sickness on the return trip and wound up tossing my cookies.  An awful and unexpected incident, but despite that moment of indignity, it was still an awesome day.
12/20/13                 DEL TACO – PREMIUM STRAWBERRY SHAKE $2.90
12/20/13                 ROSIE'S BBQ – FULL SLAB BEEF RIBS $21.99
    Today, I met up with a couple of old co-worker friends at Rosies BBQ restaurant for dinner.  It's the first time we had gotten together in over 2 years.  I ordered the full slab beef ribs again and handed the birthday certificate to our server, so my meal was completely covered.  Robert order the babyback ribs and lemonade and Joyce has lemonade also.  We stayed and talked for nearly 3 hours.
12/21/13                 PANERA BREAD – CINNAMON ROLL $2.65
12/21/13                 BEN & JERRY'S – SINGLE SCOOP COOKIES N' CREAM $4.50
12/21/13  

            

BJ'S BREWHOUSE – PIZOOKIE DESSERT $5.95
12/21/13                 BASKIN ROBBINS – MINT N' CHIP $2.49
    Today is the day that I went to go see Saving Mr. Banks at the Burbank AMC.  There's a Panera Bread located right across the walkway, so I stopped there to get my free birthday pastry.  Their cinnamon rolls are huge and good.  After the movie let out, I hit up Ben & Jerry's on my way back to the car.  This time I chose cookies n' cream over the mint chip.  I then walked a couple of blocks down to BJ's Brewhouse and redeemed my free birthday pizookie.  I sat at the bar, and the friendly bartender–Mike–took care of me.  After I finished my treat, I left a little something for Mike in return for great service.  On the way home, I hit up a Baskin Robbins and got another birthday scoop.  You must think I'm crazy to consume so much ice cream but the coupon was to expire in just two more days and I was driving right past it on a very busy, difficult to access street.  So it was either now or never.
12/22/13                 EL TORITO – #1 COMBO $10.99
12/22/13                 RUBIO'S – STEAK BAJA BURRITO $6.99
12/22/13                 WINGSTOP – LARGE SEASONED FRIES $3.19
12/22/13                 BASKIN ROBBINS – MINT N' CHIP $2.19
    Today, I met up with an old college buddy, Steve, for lunch at the Northridge El Toritos.  The place was packed when we got there.  I totally didn't realize that they have a Sunday Brunch buffet.  We were seated within 10 minutes, but we had to ask for menus because I was not interested in the buffet.  I order the taco and enchilada combo, and Steve got the burrito especial.
    Afterwards, I drove up to where the Northridge mall was and went to a small strip mall adjacent to it where I redeemed my free $7 meal offer, so I ordered the steak baja burrito to go.  I hit up another Wing Stop location in Panorama City and got another order of large seasoned fries.  And before heading for home, I stopped at the Laurel Plaza where I redeemed my final ice cream scoop from Baskin Robbins.
12/23/13                 SHAKEY'S PIZZA – LUNCH BUFFET W/ DRINK PURCHASE $7.99 ($2.61)
    This offer was to expire on Christmas and since I would be out of town by Christmas Eve, this was my last chance to redeem this birthday offer.  I can't call it a freebie because I have to purchase a drink in order to get the lunch buffet.  It only cost $2.61 with tax included, so theit was a good deal.  The buffet's food is only so-so, but their fried chicken was surprisingly good.  I think their pizza leaves much to be desired.  Since I quit drinking soda over a year ago, I just filled my cup with ice water.
12/24/13                 CARROW'S—BUMPY MONKEY SUNDAE $3.99
There are no Carrow's restaurants located conveniently to my home, so I decided a long time ago that I would hit up the one in Bakersfield before I descended upon my friend's home.  My server was unfamiliar with the birthday certificate, so I had to wait until the manager was able to take a look at my legitimate certificate.  Fortunately for me, Brandy was very familiar with it and was very warm and inviting.  She told me that she was a December baby too, so we chatted for a couple of minutes while my creation was being made.  I requested vanilla ice cream over the standard coffee ice cream, and I also requested no hot fudge.  I left a tip when I was done and thanked them.
12/27/13                 CHEVY'S FRESH MEX—2 TACOS COMBO PLATTER $10.99
Today, I went to the AMC to watch Grudge Match which I thought was pretty funny at times.  Afterwards, I drove a half mile and ate lunch at Chevy's Fresh Mex.  I saved this birthday freebie because it didn't expire until Jan. 10, so I had time.  I got the taco combo, one in carnitas and the other in beef.  I think the carnitas was better.  Service was also a bit lacking considering the place wasn't packed.  I had to request silverware when my food arrived, I had to ask for a water refill.  It wasn't a big deal, but compared to the level of service I received at other restaurants, this place was lacking.
1/3/14 ACAPULCO RESTAURANT – 2 BEEF TACOS $10.99
Today, I redeemed another birthday for Acapulco Restaurant.  I ordered two shredded beef tacos valued at $10.99.  This time, I remembered to take a photo of my plate (Image 25).  I did take one bite out of a taco first because I forgot that I had brought my camera when I saw the food.
1/4/14 VARIOUS TREATS FROM FRIENDS – $28.06
On Saturday, Jan. 04, I met my good friends at Portillo's in Buena Park.  None of us had ever eaten there before, so it was all new.  I was starving, so I ordered the Big Beef sandwich ($6.95 value) – Image 20.  It was pretty good.  I split an order of french fries and onion rings with my friend who was treating me ($2.14 value).  I still had room after that, so I ordered a chili cheese dog ($3.19 value).  I also made room for a large strawberry shake for dessert ($3.99 value).
Afterwards, I followed them to the American Sports Center in Anaheim where my friend's daughter, Jordan, was competing in a massive volleyball tournament.  Parking was $3 and the price of admission was $6 both of which was paid for by my friend, Matt.  Later, during a match break, I ate a slice of chocolate cake he had bought at Portillo's ($2.79 value).
In all, my friend had treated me to lunch, shake, dessert and some exciting volleyball to the tune of $28.06!  I have great friends.
1/15/14 ROSIE'S BBQ – $23.99
My final birthday freebie was redeemed today ay Rosie's BBQ.  This time, I had the 2 item combo platter consisting of beef ribs and tri-tip.  Value $23.99.
Well that sums up my birthday freebie month so far, and I am not finished yet.  I still intend to redeem a couple more, but I wanted to submit what I have done so far, so Julia could do her thing.
2012 – Total offers received (54)
2013 – Total offers received (48)
2012 – Total offers / coupons redeemed (35)
2013 – Total offers / coupons redeemed (43) 
2012 – TOTAL VALUE OF REDEEMED OFFERS – $289.18
             TOTAL OUT-OF-POCKET EXPENSE INCLUDING TAX AND PARKING – $16.63 + TIPS
2013 –   TOTAL VALUE OF REDEEMED OFFERS – $369.17 (estimated)*
TOTAL OUT-OF-POCKET EXPENSE INCLUDING TAX AND PARKING – $87.34 + TIPS
I was a little surprised when I tallied up the figures from last year to this year.  Despite receiving 6 fewer birthday offers, I racked up nearly $80 more in birthday freebies this year.  And I have to say again that I am not finished yet.
For some reason, I did not receive an offer from Hooters,
 Daphne's, Johhny Rockets, Islands Restaurant, Chili's, Buca Di Beppo or Dennys this year.  Odd.  I wonder if these e-clubs have an expiration date.  Nevertheless, I ate very well this past month, and I think I did an above average job in getting pretty close to the maximum I could get my grubby little hands on.
There were some missed opportunities that stung a little, but I'll get over them.  I really wanted the Schlotzsky's free sandwich offer.  The closest location to me is way out in Brea.  I was planning to hit Schlotzsky's on the 18th before I picked up Mary, but being unfamiliar with the area and the morning commute traffic conditions, I was unwilling to risk it.  I am a gambling man, but I was unwilling to gamble on a $7 sandwich and missing our 10am departure time out of Long Beach, so I had to let it go.  The other missed opportunity was a free movie coupon I had for the Regal Cinemas which was only valid on my actual birthday.  The coupon was good for any movie in any format (IMAX, IMAX 3D, etc.)  Potentially as much as an $18 value.  I was planning to go see the new Hobbit movie after my day's adventure on Catalina, but the motion sickness incident on the boat and fatigue changed my mind at the last minute.  Hard to let that one go, but I think I made the correct choice.
With most of my 2013 report finished, I am already looking ahead to what kind of damage I can do in 2014.
Burp,
The Unethical Man