Women with health insurance will soon have one less expense. Health insurance plans are required to cover birth control starting on or after August 2012. For now, you're stuck paying for it. So what is the cheapest birth control option?
The chart below compares the cost of 10 contraceptive methods. Keep in mind that these prices will vary based on location. The most effective options are listed first, with a dark line grouping additional options by efficacy as determined by Planned Parenthood. So options within two dark lines have roughly the same effectiveness.
Click on the chart to enlarge.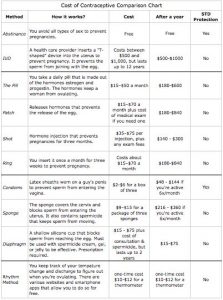 The diaphragm and rhythm method are the least expensive options, but they are also less effective and do not protect against STDs. The second most effective options are the pill, the patch, the ring, and the shot, with the patch and ring tying for $180 – $840 per year. The most costly option is an IUD, which is also one of the most effective methods of preventing pregnancies, but it doesn't protect against sexually transmitted diseases (STDs). In the long run this is the most cost effective option because it lasts up to 12 years.
Tip: Some of these options require a medical exam, an additional cost that varies widely.
Condoms are the best option to prevent STDs if used properly, but the cost adds up quickly. In a year you'll spend $48-$144 if you're active six times a month. After 12 years, condoms can end up costing more than having an IUD inserted, at $576 – $1,728.
Obviously price shouldn't be your sole determinant when choosing birth control, but it is a factor to consider, especially if you are footing the entire cost.