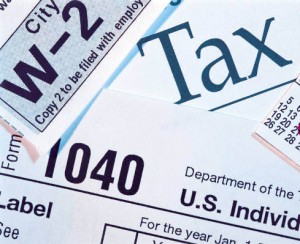 More than 75 percent of all taxpayers get a refund, according to Turbo Tax, which says refunds averaged $3,000 last year. Three-fourths – could that be true? If it is, what are you going to spend your refund on?
If you're still filling, here are three tax credits and one deduction to watch out for (in a good way). I summarized these tax tips from H&R Block.
Energy credits. If you made an energy-efficient improvement to your home in 2010, you might be eligible to claim the non-business energy property tax credit. It is for 30 percent (up to $1,500 maximum for 2010) of the cost of eligible upgrades. Projects that might be eligible for this tax credit include upgrading external windows and doors, insulation, roofing, HVAC and non-solar water heaters meeting specific energy guidelines. In 2011 the credit has been reduced to $500.
College credit. Get a $2,500 credit for each year your students is in college, up to four years. Look for more info on the American Opportunity Credit. If you have more than one student in college, you can claim this more than once. Nice!
Tuition and Fees. You can deduct some college expenses, like tuition and fees, from your taxable income up to $4,000.
Lifetime Learning Credit. This reduces your tax bill by up to $2,000 for post-secondary degree programs, and can also be used for acquiring or improving job skills.
You can also reduce your taxes by writing off charitable donations, and deducting job expenses. If you are getting cash back, here are five good things to do with your tax refund.