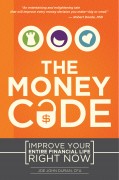 Today is your last chance to comment for a chance to win "The Money Code: Improve Your Financial Life Right Now" by Joe John Duran and a $25 Visa gift card. The book is now a New York Times best seller!
In "The Money Code," Duran teaches you how your Money Mind has an effect on your money decisions and takes you through his journey of finding five money secrets that will help you live your best life. He writes:
Ideally, making decisions about money would be a solely intellectual exercise. But I have come to know "" as both an individual and a financial professional "" that decisions about money are almost always emotional ones, too. And our personal histories and perspectives will affect not just how we make decisions but also their quality.
The 157-page book, is a quick read that will teach you how to prevent bad money decisions, use a custom checklist to improve your entire financial life, discuss decisions about money with your partner and relatives, and take control of your financial life. Who doesn't want that?!
The book will also help you identify your Money Mind that can influence your money decisions. Read my book review to find out which Money Mind you are.
To win a copy of "The Money Code" and a $25 Visa gift card, let us know in the comments what Money Mind you are by 11:59 p.m. EST. Winners will be announced on Monday. Can't wait to get your hands on the book and read more about Duran's journey and money advice? Purchase a new copy on Amazon
for $10.17 (orig. $14.95).