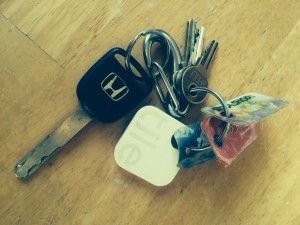 The Tile App may have saved my marriage. Okay, I'm being a tad extreme, but now that my husband has Tile on his keychain he never loses his keys. Which means he never storms around the house wretching about WHERE ARE MY KEYS??? Which means he never asks me to help find his keys. Which means I can keep my sweet arse glued to the couch.
Thank you, Tile, for never losing our keys again.
You wouldn't believe my luck. Literally two nights before Christmas, my husband lost his keys. While we scoured the house he turned to me.
"Can you please never let me lose my keys again?" he said.
"You mean all you want for Christmas is to find your keys?" I asked.
"Yes," he said.
I smiled. Because I had already received Tile from the PR team to review (thank you, Kayla!). It was wrapped and hidden in my underwear drawer. Brilliant, huh?
My husband, the guy who can't stand all the faux gifts given at Christmas (I picked out this uncomfortable sweater just for you), was about to get exactly what he wanted for Christmas.
Call it a Christmas miracle, but my husband actually smiled and **was happy** on Christmas.
So thank you, Tile.
Incidentally, he has not misplaced his keys a single effing time since putting Tile on his keychain. But I know he'll crack soon. And then Tile will save the day.