My very special roommate and I eloped recently. As thrilled as I am to share my happy news, I also wanted to brag about how we had a fabulous wedding for less than $1,500!! The trick? Simple and small.
Flowers – I paid $45 for my bouquet of white hydrangeas and roses and a matching boutonnière. I also bought two small pots of daffodils at the grocery store on sale for $3 each to decorate the appetizer table.
His suit – My roomie wore his sharp charcoal gray pin-stripped suit that he had tailormade years ago during a work trip to Bahrain. It's impossible to resist him when he is wearing this suit. Dry cleaning was $6.
My dress – I found a cute white number at TJ Maxx but had doubts. My friend Mary provided a second opinion: "Let's go shopping." I found the perfect dress
(and got incredible customer service) at The Express. Beautiful, sexy, and sooo comfortable. It was $79.99, but with a coupon I got a sparkly scarf (pictured below) and the dress for $70. I picked up a pair of metallic-colored Seychelle heels for $35 at a local upscale consignment store.
Hair – Getting my hair curled cost $45 with tip. The salon gals were floored I was getting married a few hours later and made me promise to bring by pictures.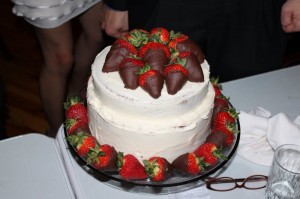 Ceremony – We got married at a waterfront park about six blocks from our house where the waitlist for a summer wedding is two years. But in April it's cold enough that we had the place to ourselves. Can you tell it's only 39 degrees? Hiring a retired judge to wed us was $150.
License – Our marriage license cost $24.
Appetizers and champagne – We welcomed 14 guests at our home pre-wedding for appetizers and champagne. Our friend Sue lent us champagne glasses, small plates, and a white tablecloth. Groceries and booze cost $70.
Dinner – We decided to splurge and treat everyone to a tasty meal at a local restaurant. We could have saved a lot of money by choosing a cheaper place or by arranging a buffet with the restaurant. We decided having a really nice dinner would make our wedding very special – and stress free – so we let everyone order from the menu, though we ordered the wine. Cost: $998 (about $62/per person including tax and gratuity).
Cake – My friend Mary saved us a bundle when she offered to make us a cake. It was the most delicious chocolate cake with strawberries!!! Exactly what we would have asked for. We saved the top layer for our honeymoon and ate a piece everyday. Delicious!
Music – I knew I had picked the right restaurant when, days before the wedding, I dropped in and saw a piano. "Do you have a piano player?" I asked the restaurant owner.
"Yes, on Friday and Saturday nights we have live music."
"What kind of music does he or she play?"
"Jazz, standards…"
"Does she take requests?"
"Yes"
Score! After dinner we had a first dance  and tipped her $20. He dipped me twice!
Photos – Two of our friends offered to take pictures and they caught many fun and touching unposed moments on camera. Like when Dan and I arrived first at the waterfront rotunda, above.
Dancing – After dinner we headed to a nearby bar/club for dancing. There was no cover charge and our friends refused to let us buy drinks. Free party!
Our total cost was $1,469. We could have spent a lot more money on flowers, musicians/DJ, ceremony location, a bigger reception, wedding planner, tchotskys for guests, limo rental, attendant gifts, and photos. The upside to keeping our wedding so simple, aside from saving a ton of money, was it was stress-free and easy to plan. We got engaged two weeks before we said "I do." I highly recommend eloping!