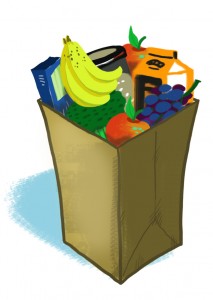 My Coupon Database searches dozens of sites for all grocery and drugstore coupons available. New coupons added weekly!
Ralphs – The Ralphs prices assume coupon doubling up to $1. Get all the Ralphs coupons later today.
Safeway/Vons – Get all the Safeway/Vons coupons and deals later today.
Albertsons – Save at Home Mommy lists this week's Albertsons couponsincluding free Minute Maid Orange Juice, Albertsons English Muffins for $0.77, and Kellogg's Cereal Raisin Bran, Rice Krispies, or Corn Flakes for $1 when you buy two.
Whole Foods – Get Whole Foods coupons later today. Our tips for saving money at Whole Foods.
Publix – Southern Savers posted this week's Publix grocery coupons. Highlights include free Combat Quick Kill, Wish-Bone Dressing for $0.56 to $0.96, Arm & Hammer Toothpaste for $0.49, Voskos Greek Yogurt for $0.25, and Yoplait Light Granola Parfait for $0.49.
ShopRite – Living Rich With Coupons posted this week's ShopRite coupons. Highlights include Kikkoman Soy Sauce for as low as free, Pompeian Red Wine Vinegar for as low as $0.25, Kikkoman Stir Fry Mix (must buy 2) for as low as free, and Kikkoman Tempura or Panko for as low as free.
Fresh n Easy – The Deal Fanatic posts this week's Fresh n Easy grocery coupons. There are several buy one, get one free deals including F&E  pasta sauce for $1.99, F&E Orange Juice for $1.99, and General Mills Cinnamon Toast Crunch, Lucky Charms or Trix Cereal for $3.49.
Winn Dixie – My Baton Rouge Mommy shares Winn Dixie grocery deals. Highlights include Dawn dish liquid for $0.25, Large Cantaloupe for $1.99 each, and WD Creole long grain rice for $1.10.
Stop & Shop – Look for this week's Stop & Shop couponson Friday, the beginning of their sale cycle. Or shop by Thursday for this week's sale, including Ragu Pasta Sauce for $0.50, Ortega Taco Seasoning for $0.16, Stonyfield Farm Yogurt for as low as $0.26 when you buy three, and Nestle Coffee-mate for $0.56.
Kroger – Faithful Provisions shares this week's Kroger grocery coupons, including Fage Greek Yogurt for $0.60 each when you buy five, Kraft Salad Dressing for $0.99 when you buy two, General Mills Cereals for $0.99, and Kraft Barbeque Sauce $0.60.
Wegman's – This week's Wegmans coupons and deals include free French's Worcestershire Sauce, Keebler Mint Creme Middles Cookies for $0.89, Wegmans Macaroni and Cheese Dinner for $0.33, and Oral-B Dental Floss for $0.69.
Harris Teeter – This week's Harris Teeter grocery coupons will be posted later today.
Trader Joe's – Healthy Life Deals shares this week's Trader Joe's deals, including butternut squash for $1.99 each, Kashi TLC 7 grain Crackers for $0.79, Natures Path Flax Plus Granola for $1.89, and TJ Organic Sour Cream $1.69.
Giant Eagle – Lady Savings posts this week's Giant Eagle coupon deals later today.
NEX – Military Wives Saving posts the best grocery deals at the Navy Exchange each week.
Grocery coupons – Get the latest grocery coupons from Coupons.com.
Redplum coupons – Get the latest coupons from Redplum.
New to coupons? Check out Bargain Babe's post on coupon clipping basics. If you want to take advantage of these deals, make sure to save the coupon inserts you receive in the mail or with your Sunday newspaper. Here's a great suggestion for how to handle coupon organization.