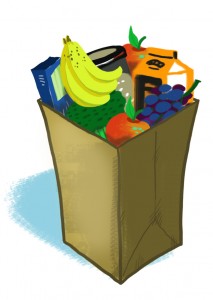 My Coupon Database searches dozens of sites for all grocery and drugstore coupons available.
Ralphs – The Ralphs prices assume coupon doubling up to $1. Get all the Ralphs coupons later today. Our tips for saving money at Ralphs.
Safeway/Vons – Mrs. Moneysaver posts this week's Safeway/Vons coupons later today.

Albertsons – Save at Home Mommy shares this week's Albertsons coupons. Highlights include Nabisco Ritz for $0.99, Land O Lakes Fresh Butter Tub for $1.25, and Swiffer Sweeper Starter Kit for $5.99 plus free refill!
Whole Foods – Get Whole Foods coupons later today. Our tips for saving money at Whole Foods.
Publix – Southern Savers posted this week's Publix grocery coupons. Highlights include free Dixie Plates or Bowls, free CoverGirl Foundation, Concealer, Powder or Blush, French's Classic Yellow Mustard for $0.34 – $0.64, and Newman's Own Pasta Sauce for $0.34 to $0.84. Plus, a couple more freebies!
ShopRite – Living Rich With Coupons posts this week's ShopRite coupons. Highlights include Kraft Barbecue Sauce for as low as free, Welch's Fruit Snacks for as low as $0.86, Nutella Hazelnut Spread as low as $1.99, and Eggo Waffles for $0.49.
Fresh n Easy – The Deal Fanatic posts this week's Fresh n Easy grocery coupons later today.
Winn Dixie – A Few Shortcuts shares Winn Dixie grocery coupons later today.
Stop & Shop – Look for this week's Stop & Shop couponson Friday, the beginning of their sale cycle. Or shop by Thursday for this week's sale, including Kraft Barbecue Sauce for as low as free after coupon, Old El Paso Taco Shells for $0.66, and Hatfield Boneless Ham Steak for as low as $0.50 each after coupon.
Kroger – Faithful Provisions shares this week's Kroger grocery coupons, including Clif Crunch Bars for $0.50, half gallon of So Delicious Coconut Milk for $1.50, and Garden of Eatin Chips for $1.
Wegman's – This week's Wegmans coupons and deals include French's Worcestershire Sauce for as low as free, Wegmans Fajita Tortillas for $0.49, Carefree Body Shape Pantiliners for $0.09, and Oral-B Dental Floss for $0.69.
Harris Teeter – This week's Harris Teeter grocery coupons will be posted later today.
Trader Joe's – Healthy Life Deals shares this week's Trader Joe's deals, including TJ Gluten Free Pancake and Waffle Mix for $2.99, Tofurky Italian Sausage for $1.24, and Country Choice Old Fashion Oats for $1.29.
Giant Eagle – Lady Savings posts this week's Giant Eagle coupon deals including Kleenex Tissues for $0.33, Coffee-mate Flavored Creamers for $0.40, and Betty Crocker Brownie for $0.50.
Grocery coupons – Get the latest grocery coupons from Coupons.com.
Redplum coupons – Get the latest coupons from Redplum.
New to coupons? Check out Bargain Babe's post on coupon clipping basics. If you want to take advantage of these deals, make sure to save the coupon inserts you receive in the mail or with your Sunday newspaper. Here's a great suggestion for how to handle coupon organization.